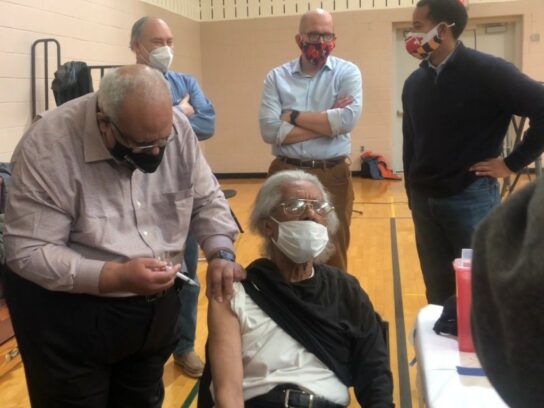 Montgomery County's African American Health Program (AAHP) is expanding its targeted COVID-19 testing and vaccination support to ensure Black residents receive the necessary resources and guidance to slow transmission of the virus and stay healthy.
According to AAHP, their goal is to test 15,000 African American residents by July 2021 and has already successfully tested 6,000 residents since their efforts began in November 2020.
"More than 3,400 Montgomery County residents contracted COVID-19 last month. It remains critical for people to know their status so they can protect their loved ones and others," said Halisha S. Hunter, COVID response lead for AAHP.
AAHP said African Americans in Montgomery County "have the lowest health status compared to other racial/ethnic groups" which drives their mission to eliminate health disparities and improve the quality of life for African Americans through providing free and critical health services.
To help encourage COVID-19 testing, AAHP has partnered with Black faith organizations and Black Greek letter organizations. They are also providing free on-site COVID-19 services including vaccine pre-registration and weekly testing. They have multiple testing locations throughout the county where registration can be done on-site and no appointment is required.
Additionally, AAHP provides a range of other COVID-19 resources including health and wellness education and guidance, housing and financial assistance, emotional resiliency resources and more.
The "Don't Stress, Take the Test" campaign was established in partnership with Fit Fathers to raise awareness of AAHP's unique testing experience. As part of the campaign, celebrity sportscaster James Brown, from The NFL Today, Thursday Night Football and host of "The James Brown Show," made a special appearance for a public service announcement.