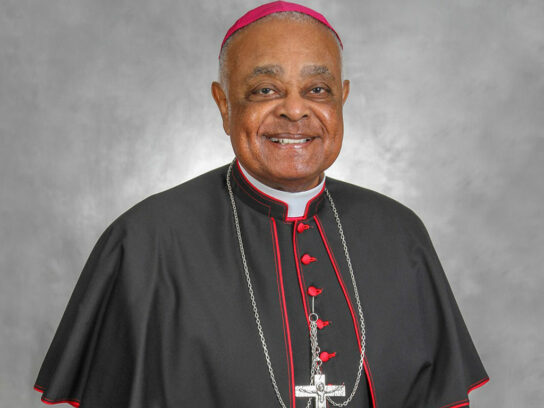 Father Rob Walsh of Our Lady of Lourdes in Bethesda called the promotion of Archbishop of Washington, D.C. Wilton Gregory to cardinal "such a great honor for not just him but the whole Diocese of Washington."
Pope Francis elevated Archbishop Gregory along with 12 others. They will be added to the College of Cardinals on Nov. 28, according to the Vatican News. At 72 years of age, Gregory will have the right to participate in a future conclave.
He is the first African American to be elevated to the College of Cardinals. Being the first "is significant, of course absolutely," Walsh said. More important, he said, his promotion speaks to his value as a person, regardless of skin color, and as "a great leader and a great father to us."
"It's an exciting time for us," said Walsh, who has met with the future cardinal "multiple times."
"With a very grateful and humble heart, I thank Pope Francis for this appointment which will allow me to work more closely with him in caring for Christ's Church," Gregory wrote in a news release from the Archdiocese of Washington.
Archbishop Gregory was installed in Washington in May 2019. He is a native of Chicago and was ordained an auxiliary bishop of Chicago in 1983. He served for 11 years as the bishop of Belleville, Ill. and then was archbishop of Atlanta in 2005.
Pope Francis has named our Archbishop of Washington, Wilton D. Gregory, a cardinal. With all the members of the local church we congratulate Archbishop Gregory. He is the first African-American to be elevated to the College of Cardinals. pic.twitter.com/4LB4Xweq13

— Good Counsel (@OLGCHS) October 26, 2020