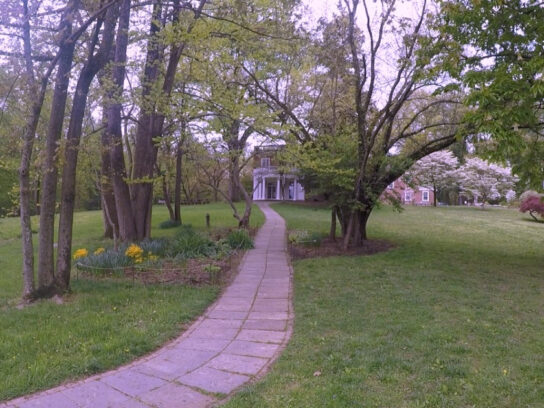 Nature Forward is the new name of The Audubon Naturalist Society.
The name change was approved during its annual meeting Oct. 20 at Woodend End Nature Sanctuary on Jones Mill Road in Chevy Chase. It also includes a new logo and slogan, "connecting nature and people in the Capital Region."
Montgomery County Council will issue a proclamation recognizing the organization's work at its Tuesday meeting.
"In this season of changing colors and the transition from warm days to crisp nights, we are turning over a new leaf," said Nature Forward Executive Director Lisa Alexander.  "I want to thank everyone who came out to Woodend in support of our new name. Nature Forward will help move us toward a stronger, more inclusive future."
Added Board President Diane Wood, "I love Nature Forward. It signals that we are a welcoming and inclusive organization. Nature is what unites us. And nature needs all of us to protect wildlife, clean water and air, preserve our precious open spaces and combat climate change."
The group opted for a name change to take a step away from John James Audubon, who it noted on its website, "was a catalyst for bird conservation in our nation. However, based on what we heard from many members of our community, retaining his name without regard to the pain that he inflicted on Black people and other people of color would be a disservice."
Also, the group noted, "the name ANS wasn't accessible for numerous audiences who felt the word "naturalist" was not widely understood by nature lovers and that the word "society" seemed exclusive."
The Chevy Chase site is independent and predates the National Audubon Society.
Prior to approving the name change, the local organization gathered feedback from nearly 1,000 people and considered more than 100 names.
"We are so proud of our history of environmental education and conservation in the region," Alexander added. "We will continue to help all communities across our region to appreciate, understand and protect their natural environment."
The new Nature Forward logo features the outline of a heart-shaped redbud leaf, a native tree in the Capital Region. The heart-shape signals love for community and nature. Its characteristic pointed tip represents an arrow pointing toward a greener future for the next generation. The stylized bright colors of the leaf represent nature in all four seasons and a commitment to diversity, inclusion and belonging.