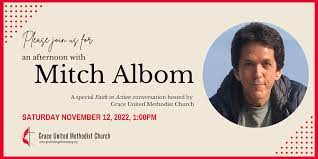 Mitch Albom, award-winning author of "Tuesdays with Morrie," will be hosting a Faith in Action conversation hosted by Grace United Methodist Church in Gaithersburg on Nov. 12 at 1 p.m. according to the church's website.
According to B.G. Fitzgerald, a member of the church's Growth and Outreach Committee, the Church Council and Senior Pastor endorsed this event as a means of introducing the mission outreach of Grace UMC to the communities of Gaithersburg and the greater Montgomery County.
"We had been reading his books at our book club and we thought, we need to get this guy to speak to us! We think he has a tremendous message for the community to hear," Fitzgerald told MyMCM.
Albom will talk to attendees about how he put his faith into practice. His conversation will touch upon community building, giving, and purpose according to the website.
The author creates a sense of spirituality in his books which has much to teach our community about helping others. The message he gives will touch the hearts of all who hear him speak according to Fitzgerald.
Albom, who considers himself to be a journalist, philanthropist, musician, and author, has sold 47 million copies of his books around the world according to ICM speakers. His notable book publications include "Tuesdays with Morrie," which was turned into a TV movie and stage play, "The Stranger in the Lifeboat," "The Five People You Meet in Heaven," "The Next Person You Meet in Heaven," and "Finding Chika."
Additionally, Albom hosts two radio shows on WJR-AM in Detroit and has made appearances on The Today Show, Oprah, and CBS Sunday Morning according to ICM speakers.
The event is open to the public. Grace United Methodist Church is located at 119 N Fredrick Ave Gaithersburg MD, 20877. Early bird tickets are $25 per person until Oct. 9. Community Members can buy tickets through this Eventbrite Link. 
For any questions about the upcoming event, contact Bob Tyson at rntysonjr@gmail.com