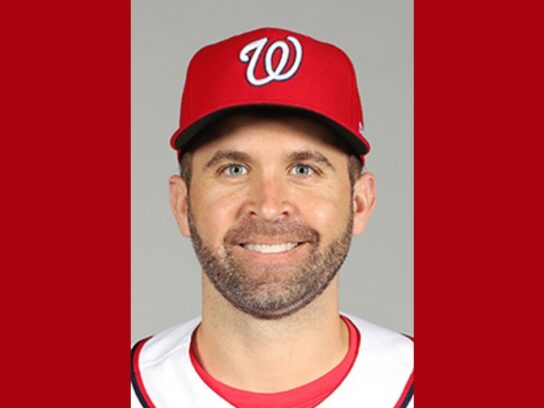 Despite a 19-31 start that had many calling for manager Davey Martinez to be fired, the Washington Nationals are playoff bound. The Nats clinched a National League wild card spot Tuesday night sparking quite a clubhouse celebration. One of the stars of the postgame party was second baseman and Bethesda Big Train alumnus Brian Dozier who stole the show singing and dancing, along with his teammates, to Calma, a popular song by Pueurto Rican singer Pedro Capo.
Probably the best video I've ever take pic.twitter.com/TSyrgphebj

— Kelyn Soong (@KelynSoong) September 25, 2019
The tweet has about a million views as of Wednesday morning.
In 2006, Dozier, then 19, played for Bethesda Big Train, a team in Cal Ripken Collegiate Baseball League that played its games at Shirley Povich Field at Cabin John Regional Park in Bethesda. Dozier was a shortstop at the University of Southern Mississippi at the time. He was drafted by the Minnesota Twins spending his first six and a half seasons in the major leagues with them and half a season with the Los Angeles Dodgers last year. The Nats signed him to a free agent contract before the 2019 season to fill a need at second base. He has hit 19 home runs this season with a .233 batting average.
13 years after helping lead Bethesda Big Train to a regular season title, Dozier is back in the area hoping to be part of the Nationals' first ever World Series title.