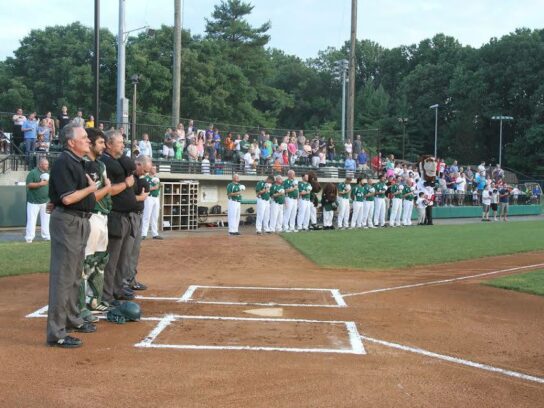 The Bethesda Big Train announced Wednesday that Chris Rogers has been named the team's new general manager. Rogers has spent the last two seasons as the Big Train's assistant general manager.
Rogers, who graduated from the University of Maryland, began working for the Big Train in 2015 as an intern before joining the front office in 2018.
"We are very pleased to have Chris on board as our permanent General Manager. While serving as acting GM since BCBBC retook stewardship of Big Train on June 1, Chris has been a whirlwind of activity," team Founder and President Bruce Adams said. "Under his leadership, Big Train produced three shows each week on bigtrain.tv to entertain our fans deprived of baseball by COVID-19 and three issues of an online magazine format Big Train Beacon while raising more than $50,000 to help us prepare to bring the fun back to Shirley Povich Field in 2021."
Rogers had been serving as the acting GM since June 1. He replaces David Schneider who left in May to take a position with BCC (Bethesda Chevy Chase)  Baseball. For the past eight years, Big Train was run by BCC Baseball. on June 1, stewardship of the team transitioned from BCC to the newly formed Bethesda Community Base Ball Club (BCBBC) headed by team founder Bruce Adams.
Adams also announced Wednesday the addition of six new members to the organization's Board of Directors. The new members are:
Katelyn Engen, a native of Kensington, serves as an athletic trainer at the University of Maryland;
Manny Hidalgo, of Silver Spring, is executive director of Shepherd's Table;Marjorie Lane, of Potomac, is a marketing consultant and co-owner of Bruster's Real Ice Cream of Gaithersburg;
Ramin Nejaddehghan, a Potomac native now living in Washington, DC, practices commercial real estate finance law at Krooth & Altman LLP;
Emily Waldman, of Bethesda, has served as the Big Train's host family co-coordinator since 2016; and
Donnie Wright, a Bethesda native now living in Chevy Chase, was Maryland Gatorade Player of the Year for baseball while a student at B-CC High School. Donnie serves as a Managing Director of Investments at Wells Fargo Advisors in Bethesda.
BREAKING: Bethesda Big Train Names Chris Rogers as General Manager; Elects Six New Board Members.

Full press release: https://t.co/NIUXQL7sgG pic.twitter.com/DOzmqXCOW5

— Bethesda Big Train (@GoBigTrain) July 29, 2020
The Big Train's 2020 season was canceled because of the coronavirus, but the team expects to return to the field next summer.