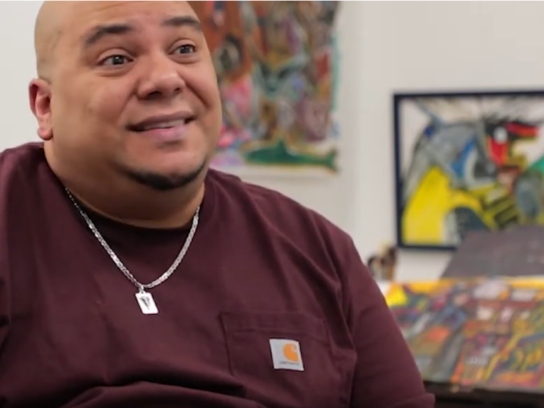 Jonathan Jaeger began painting full time five years ago after a career as a social worker. One day he realized he wanted more and needed to pursue his passion for painting. He describes his painting style as outside the norm. Jaeger grew up in a diverse adoptive family and he sees this influence in his art.  Jaeger is bi-racial, half-black and half-white. As one of the only men of color in his high school, he felt as if he was walking a fence, balancing between the black culture and the white culture. As an artist, Jaeger says he does not need to pick between the two cultures. He can just be an artist.
Short Take: Jonathan Jaeger, Black Artist in Montgomery County
In this short video, Jaeger talks about leaving social work to paint full time and pursue his passion. The change made him feel like the sun was coming up and he was happy.