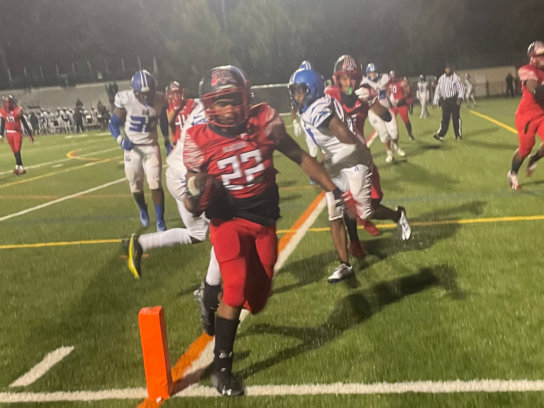 The Blair Blazers scored eight touchdowns in a 52-13 blowout win over the Blake Bengals.
Blair quarterback Kendall Anderson excelled in the air and on the ground. Anderson threw two touchdowns in the second quarter to give Blair a 22-13 going into halftime. He added a rushing touchdown on a quarterback sneak in the third quarter and had a couple of impressive scrambles.
As the rain started falling harder in the second half, Blair leaned on their running game to carry them to victory. Running back Tariq Taylor scored two touchdowns on goal line carries, while wide receiver Jamall Worrell took a jet sweep in for a 10-yard touchdown. Worrell also had a receiving touchdown.
@BlairAthletics RB Tariq Taylor scores his second touchdown of the game on a 3-yard run. ( Extra point is no good).

Blake 13, Blair 52
2:22, Q4@mymcmedia pic.twitter.com/UZ1P8EruNY

— Daniel Philipose (@dphilipose28) October 1, 2022
Despite jumping out to a 13-6 lead midway through the second quarter, Blake could not keep up with Blair's explosive offense and had trouble moving the ball, especially in the second half. Blair's defense was especially strong in the passing game, including an interception return for a touchdown by linebacker Loic Nemlin.
Blair (5-0) will look to keep their undefeated season alive next week in a road game against Rockville.
Blake (3-2) will return home for a matchup against Paint Branch (3-2).