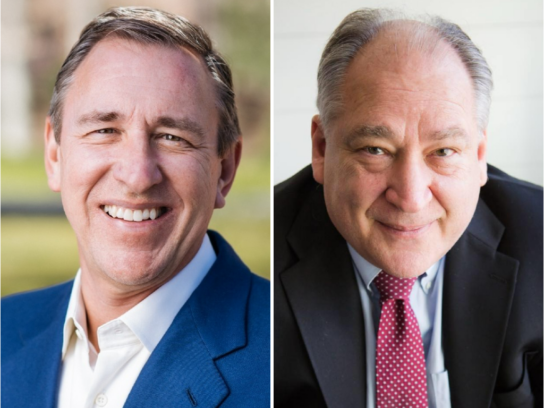 David Blair, who lost to incumbent Montgomery County Executive Marc Elrich by only 35 votes, will submit a petition for a recount in that race Tuesday at noon, Blair's communication director told MyMCM.
Once that petition is received, the county board of elections will begin recounting votes in two days – just in the race for executive, according to Dr. Gilberto Zelaya of the Montgomery County Board of Elections.
Results of the July 19 primary were certified Saturday, and the other races for the November general election are set.
The Democratic nominee for executive faces Republican Reardon Sullivan.
If the winning Democrats go on to victory in November in this county where as of May, there were 407,196 registered Democratic voters and 97,645 registered Republicans, the county council will be majority female. Six females may sit on council. Currently, Nancy Navarro is the lone female.
In the four at large county council seats, Democrats Evan Glass, Will Jawando, Gabe Albornoz and Laurie-Anne Sayles face Republicans Christopher Fiotes, Lenard Lieber and Dwight Patel.
In District 1, incumbent Andrew Friedson is unopposed.
In District 2, Democrat Marilyn Balcombe faces Republican Dan Cuda.
In District 3, Democrat incumbent Sidney Katz will run against Republican George Hernandez.
In District 4, Takoma Park Mayor Kate Stewart faces Republican Cheryl Riley.
In District 5, Kristin Mink faces Republican Kate Woody.
In District 6, Natali Fani Gonzalez faces Republican Viet H. Doan.
In District 7, Dawn Luedtke will run against Republican Harold C. Maldonado.
For Montgomery County Public School Board of Education, incumbent Karla Silvestre received the most votes for her at large seat in the non partisan election.
The top two vote getters in each district move on to the general election.
In District 1, Grace Rivera Oven was the top vote getter, followed by Esther L. Wells. In District 3, Julie Yang received the most votes followed by incumbent Scott Joftus. In District 5, incumbent President Brenda Wolff received the most votes, followed closely by Valerie M. Coll.
For state's attorney in Montgomery County, incumbent John McCarthy was the top Democratic vote getter and will not have opposition in November.
Chief Deputy Sheriff Maxwell Cornelius Uy received the most votes on the Democratic ticket for sheriff and has no opposition in November.
For governor, county voters selected Dan Cox as the Republican nominee. He received 237 more votes than Kelly Schulz.
Voters overwhelmingly chose Tom Perez of Takoma Park, who received 48% of the vote in a field with 10 candidates. However, Wes Moore received the most votes statewide and will run against Cox in the general election. Moore earned 20.4% of the support from county voters.
Incumbent U.S. Sen. Chris Van Hollen overwhelmingly received support from county voters and will face Republican Chris Chaffee, who came in second in Montgomery County.
In the race for U.S. Representative, incumbent David Trone easily won the Democratic race in the newly-redistricted District 6. He faces Neil C. Parrott, the Republican nominee.
In District 8, U.S. Rep. Jamie Raskin will face Republican Gregory Coll in November.
In the races for state senator:
Democrat incumbent Maryland Sen. Craig Zucker will face Republican Alex Bieber in District 14.
In District 15, incumbent Maryland Sen. Brian Feldman will run against Republican David Wilson. Both candidates ran unopposed.
In District 16, incumbent Maryland Sen. Susan Lee does not have an opponent in the general election.
In District17, incumbent Maryland Sen. Cheryl Kagan will run against Republican Scott I. Gershman.
In District 18, incumbent Maryland Sen. Jeff Waldstreicher faces Missy Carr on the Republican ticket.
In District 19, incumbent Maryland Sen. Ben Kramer will run against Republican Raul R. Ayala.
In District 20, incumbent Maryland Sen. Will Smith does not have a Republican opponent in the November general election.
In District 39, incumbent Maryland Sen. Nancy King also does not have a Republican opponent.
In District 9, Republican Reid J. Novotny will run against Democrat Katie Fry Hester.
Three seats for state delegate are up for election in each district.
District 9A – Republicans Trent Kittleman and Jianning Jenny Zeng face Democrats Natalie Ziegler and Chao Wu.
District 14 – Republicans Kathy Gugulis and Kate Walshe face Democrats Anne Kaiser, Pamela Queen and Eric Luedtke.
District 15 – Republicans Jodi Noah, Stacey Sauter and Matt Wade will run against Democrats Lily Qi, Linda Foley and David Fraser-Hidalgo.
District 16 – Democrats Ariana Kelly, Marc Korman and Sara Lee are unopposed.
District 17 – Republicans Helene Meister and Donald Patti face Democrats Julie Palakovich Carr, Kumar Barve and Joe Vogel.
District 18 – Republican George Cecala faces Democrats Emily Shetty, Jarad Solomon and Aaron Kaufman.
District 19 – Republican Frank Nice faces incumbent Democrats Charlotte Crutchfield, Bonnie Sullison and Vaughn Stewart.
District 20 – Democratic incumbents David Moon, Jheanelle Wilkins and Lorig Charkoudian are unopposed.
District 39 – Democrats Kirill Reznik, Lesley Lopez and Gabriel Acevero are unopposed.