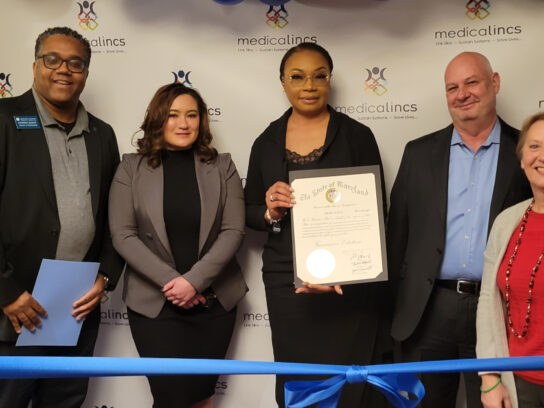 Medicalincs celebrated "Twosday" with the grand opening of their integrated solutions business.
The Gaithersburg-Germantown Chamber of Commerce (GGCC) conducted a ribbon cutting ceremony and joined Medicalincs at their celebration on Feb, 22. They are located at 8757 Georgia Avenue, Suite 400, in Silver Spring.
Their mission is to link silos in the healthcare system and deliver, integrated, effective, and equitable care delivery solutions; that preserve and save lives. In every tier of the healthcare industry, inconsistencies can exist that cause administrative burden, unnecessary costs, decreased morale, and a subpar outcome for population health. At Medicalincs, their goal is to provide healthcare delivery systems that streamline processes from the inside-out, in a holistic, customized manner. Relying on their extensive clinical, business, and technical expertise, they collaborate closely with their clients to install the human and technological mechanisms that inspire communication, maximize efficiency, and promote education. Learn more at www.medicalincs.com.
The GGCC is active in providing business-to-business networking opportunities throughout the year: a collective voice in local, regional, and state legislative affairs, professional development opportunities and other services that enhance the business environment.