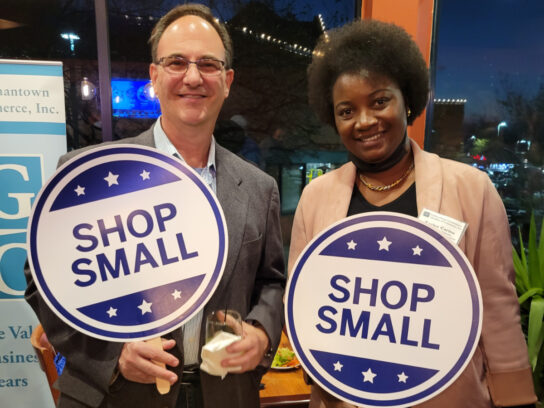 During the season of Thanksgiving, the Gaithersburg-Germantown Chamber of Commerce (GGCC) gives thanks and shows their appreciation for their chamber members and all businesses that help our local economy thrive.
Thanksgiving is also an opportunity for the GGCC to give back to its community. The Chamber collected 150 pounds of canned goods for Manna Food Center at their give thanks networking mixer at Boca Botanas Tapas Bar in Gaithersburg.
"It's so important to give back to our community when we can. I'm so proud of our members to support Manna Food Center," said Marilyn Balcombe, GGCC President.
The annual give thanks event is a chance for the Chamber to come together and support the upcoming Small Business Saturday initiative. Small Business Saturday is a nationwide event to support local small businesses on the Saturday after Thanksgiving. Shopping small is more important than ever, as 78% of business owners surveyed say holiday sales will impact their ability to stay in business in 2022. Chamber members are excited to shop small and make a difference this season.
The GGCC is active in providing business-to-business networking opportunities throughout the year: a collective voice in local, regional, and state legislative affairs, professional development opportunities and other services that enhance the business environment.
The GGCC is located at 910 Clopper Road, Suite 205N, Gaithersburg, MD. To learn more about the GGCC visit us at www.ggchamber.org. Find us! Facebook: https://bit.ly/2NmNSpC | Twitter: @GGCCNEWS | Instagram: gburggermantownchamber