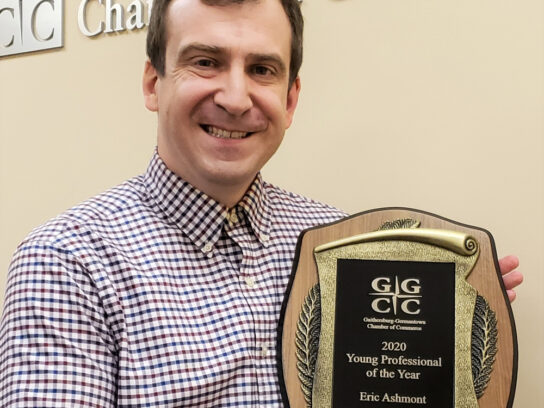 The Gaithersburg-Germantown Chamber (GGCC) awarded Eric Ashmont, a financial advisor at Edward Jones, as the recipient of the 8th Annual Young Professional of the Year Award (YPG) at the Chamber's first-ever virtual gala. The award was presented by Laura Volovski of Adventist HealthCare. Adventist HealthCare was the sponsor of this year's Young Professional of the Year award.
"We very proud of our young leaders within our Chamber. Eric is a great part of our Chamber and I know he will continue to do great things", said Marilyn Balcombe, GGCC President / CEO.
The Young Professional of the Year Award recognizes and celebrates the accomplishments of a highly motivated, emerging leader of the Chamber's Young Professional's group.
Ashmont was awarded for his reliability, leadership, and communication skills. His greatest asset is being able to communicate a clear and compelling message in an effort to empower and educate his clients with relevant and timely information.
Ashmont's business is built on relationships and face to face interaction or in recent times… face to camera. He made a concerted effort very early on in the pandemic to take advantage of our new virtual environment and be proactive in his outreach to fellow Chamber Members and the community. He said he felt silly asking people to meet up for a virtual coffee, but, now he can't imagine this past year without them.
Lastly, he is dedicated to the Gaithersburg-Germantown Chamber. Ashmont said his greatest achievement to date was becoming the 2020 YPG Trivia Night Champion. He frequently engages with emerging leaders and actively attends the Young Professional Group and Chamber events.
The GGCC's Young Professionals program is a networking group of dedicated young professionals ranging in age from 21-40. Through the GGCC, young professionals can engage with other like-minded business professionals to further their career, strengthen their professional image or just meet new friends. The mission of the group is to make the Gaithersburg-Germantown communities and surrounding areas a great place to live and work by harnessing the strength of our communities to make positive change. Learn more about the program at: www.ggchamber.org/get-involved/young-professionals.
The GGCC is active in providing business-to-business networking opportunities throughout the year: a collective voice in local, regional, and state legislative affairs, professional development opportunities and other services that enhance the business environment.