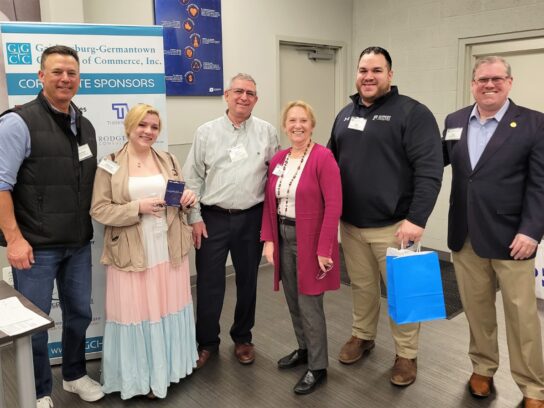 The Gaithersburg-Germantown Chamber of Commerce (GGCC), in partnership with JK Moving Services, made life sweeter for the community and supported the efforts of the Upcounty Consolidation Hub with canned food donations at the third annual Cake, Battle, and Network event.
"It's so great to be back in person for this event," said Marilyn Balcombe, GGCC President/CEO. "Not only is it a fun event, but we were able to collect a lot of good for the Germantown HUB".
Richard Branson said, "doing good is good for business". This concept rings true at the Chamber, as we are committed to working together with our businesses and community leaders to strengthen the local economy, increase opportunities for our residents, and do more good. We look for opportunities for our chamber members and leaders to feel like good corporate citizens.
Contestants preheated their oven, put on their baking toques, fired up their competitive spirit, and gave their time and talent by entering the "Great Chamber Bake Off & Networking event". The baked goods were judged by City of Gaithersburg Mayor Jud Ashman, JK Moving's general manager Tom Grass, and ABC 7 NEWS | WJLA 24/7 news anchor Jonathan Elias.
The contestant's bakers "dozens" of muffins or cupcakes were portioned for judging and sampling, then the remainder were packaged for delivery to the Upcounty's local fire and police personnel. The goodies were delivered by Chamber staff and board members to local fire and police stations – Montgomery County Fire and Rescue Service Station 8, the Gaithersburg Police Department, and the Montgomery County Police, 5th District and 6th District.
For those not participating in the bake-off, they helped by donating canned goods for the Upcounty Consolidation Hub at BlackRock, which provides food and essentials to families in the community who have been disproportionately impacted by the COVID-19 pandemic.
The winners of the bake-off were: Dan Ridings with Ruppert Landscape, Nikon Hill-Coston with Kon's Kakes & Treats; and Rebecca Altendorf with Medallion Financial Group, LLC ; they placed third, second, and first respectively.
The GGCC is active in providing business-to-business networking opportunities throughout the year: a collective voice in local, regional, and state legislative affairs, professional development opportunities and other services that enhance the business environment.