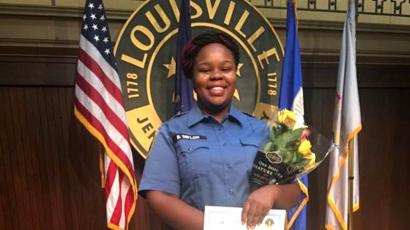 Art has been central to the protest movements surrounding this year's overwhelming acts of injustice impacting our country. From the Black Lives Matter mural in DC to the motley assortment of fiber art, posters and photographs plastered to the chain link fence President Trump erected in front of the White House, art has highlighted the sentiments of activists and common citizens alike. This year, activist efforts have used art in highly visible ways. These ways have influenced messages to the extent of swaying corporations to infuse their branding with the images of slain citizens looking alive and well. For example, Breonna Taylor's tragic killing led to her image gracing the cover of numerous brands, from Vanity Fair to Oprah Winfrey's O Magazine.
Who was Breonna Taylor?
Breonna Taylor was a 26-year-old woman who was fatally shot on March 13 this year. She was killed in Kentucky, where she lived, by Louisville Metro Police Department officers Jonathan Mattingly, Brett Hankison, and Myles Cosgrove. This past Wednesday, a grand jury chose not to indict the officers for her murder. She was shot and killed when the officers entered her apartment unannounced using a battering ram. Although the death of Breonna Taylor took place in Louisville, Kentucky, many throughout the country felt outrage at the way that Breonna Taylor was treated during the last moments of her life and even after her death.
After the no-indictment ruling on Wednesday, hundreds took to the streets and to social media to express their outrage. Celebrities like Kerry Washington and Yara Shahidi took to social media to share their dismay with the court decision.
The court decision sparks outrage
Closer to home, Karina Gorham, a 14-year-old spoken word artist based in Montgomery County felt angry. Karina has been using her voice to speak out against injustice since she began writing poetry. Her poetry skills had been enhanced during her work through programs run by the nonprofit Story Tapestries based in Germantown, MD. She presented her poem "Remembrance" at the Montgomery County Executive Council meeting in September 2019 to speak out against racial and gender-based bias (see video below). No stranger to reflecting on injustice in this country, Karina had suggestions on next steps.
"I honestly feel like they didn't give her the justice she deserved since the officers were acquitted," Karina shared. "I would love for people to sign more petitions, contact the Kentucky governor and offices, and spread the word on the injustice given."
National organizations agree with Karina. The fight for justice must not wane. Carl Takei, senior staff attorney with the ACLU's Criminal Law Reform Project, shared a statement on Wednesday that included the excerpt below:
"Today's charging decision is the manifestation of what the millions of people who have taken to the streets to protest police violence already know: Modern policing and our criminal legal system are rotten to the core. This decision further highlights what was already obvious: To change these systems that routinely perpetuate egregious acts of violence against Black lives, elected officials must listen to the cries of those communities and make sweeping changes — including divestment from these broken institutions and reinvesting in non-police alternatives — so that Black people no longer fear being murdered in their own home.
"We will continue to fight alongside the members of the Louisville community and the larger movement to shift power and resources away from the racist and unjust institution of policing that regularly  terrorizes our communities and the lives of those that we love."
Karina succinctly opined that justice for humans most always supersedes the value we place on inanimate objects. Referencing the grand jury charge against Hankinson for shooting the wall in Breonna Taylor's apartment, but, not for shooting and killing Breonna, Karina said, "They gave the wall in her house more justice than her own life."