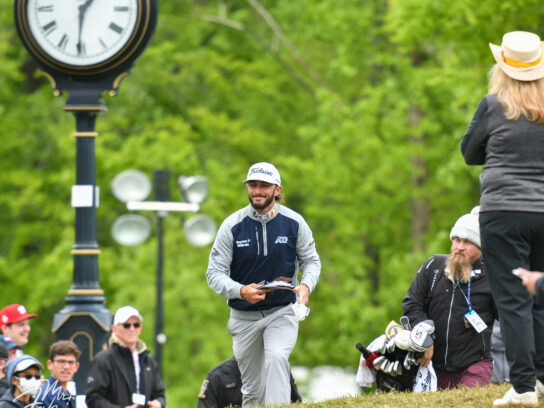 I have photographed many PGA events in Montgomery County over the years dating all the way back to the 1980's.
The Wells Fargo Championship held at the TPC Potomac at Avenel Farms may indeed be my last men's PGA event. Because the next PGA event is scheduled at Congressional Country Club in 2031 – nine years away. Sad, to say unless they give me a golf cart to motor around the course to take still images, I just might pass it up.
Things change. Golf tournaments seem like they come and go here in the DMV, so who knows I might get tagged once again before 2031.
Meanwhile, as I did in 2018 at the last PGA tournament event (Quicken Loans), I had an eye out for what it is like to view professional golf here in MoCo.
Rain, cold, and brief strands of sunlight seemed to be the environmental context at Avenel Farm. That did not deter the neighborhood, nor the volunteers, nor the golf fans from coming out to Potomac. I will not show the mud, or the discomfort that could have been the story of this event.
People wanted to be there, and they were. Whether they lived along the course, or walked paths along mansion scaped fairways, or just took a bus ride from North Bethesda. They all showed up as did many touring pros.
So here goes. Enjoy these 22 images chosen among the nearly 10,000 I clicked off over the weekend from May 5th to May 8th 2022.