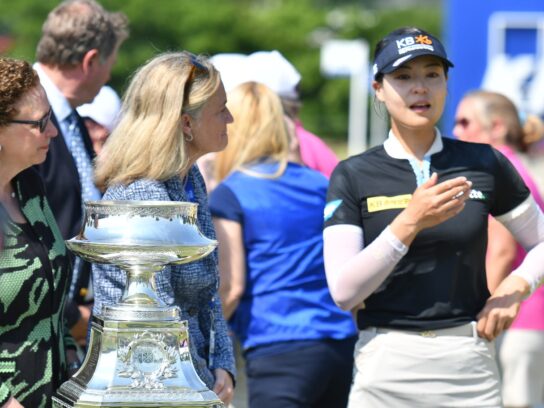 The KPMG Women's Golf Championship was held at Congressional Country Club in Bethesda this past weekend in a reincarnated debut.  In post event debriefs with fellow sports photographers the common question most of us were asked by members was – "What do you think of the course"?
Now to be honest, as a part of my photo assignment, I was to take scenes of the Blue Course.
Also, in the spirit of full disclosure, I have commuted (and cycled) along Permission Tree Road boarding Congressional for nearly 30 years.  I count on both hands the number of golf tournaments I covered there since the 80s.
I cover this course without the aid of a golf cart. I never spoil that Sunday walk.
Lastly, I am family friends with John Scott Rattan, the local golf teaching pro now at Congressional.  I have followed his travails for years across Tobacco Road, colleges, and the DMV plying his trade.  Rock Star!
So, forgive me if I come at this with a slanted perspective.
What do I think of Congressional Country Club's redesigned Blue Course?
I LOVE IT!
Do I miss the trees? Yes and no.
No. Because I can see the iconic clubhouse from Persimmon Tree Road now.  I can also see it from near the 3rd tee, the 15th 16th, 17th fairways and of course all those places in between that are not in the hollows.  But I prefer and always have the view along the 18th.
Yes.  There are now only two shade trees left standing between the 17th and 18th holes and one big one on the overlook pond side left on 18.
I love the deeply contoured bunkers surrounding the 17th and the 12th fairways.
But let me not digress into describing each blade of newly laid fountain grasses.  It just works for me – photographically.
Now playing it is a different story.  Ask the women Pros who played the KPMG this weekend.
I picked up on Lexi Thompson early on Thursday so much so that I was replaying The Police's "Everything Little Thing She Does [is Magic]" in my head as I looked through my viewfinder.
In Gee Chun, I got to say she was just stone cold automatic.  Fun to watch.
Added to Chun's memory album is her drinking from that firehose of a champagne bottle on the 18th green after she and her caddie received that sweet sticky shower upon winning the PGA all with the iconic clubhouse in the background. It is a classy, fun-loving image.
The women's PGA is back here in five years – so "they" said on the 18th at the post celebration.
Don't wait that long just peruse these 21 images now signed by Mr! Fab and enjoy.  If you want more – let me know.