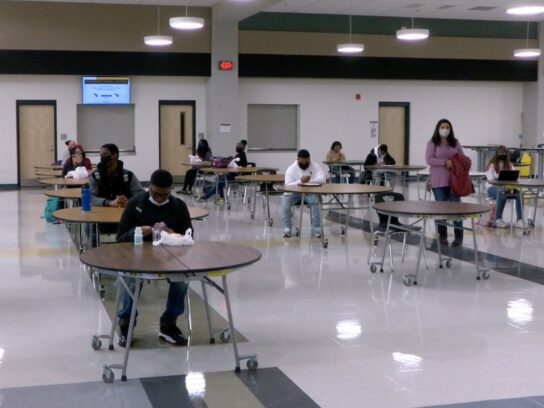 In one week, 160,000 mask-wearing students return to Montgomery County's 209 public schools, some for the first time in a year and a half. Another 2,300 students are enrolled in MCPS' Virtual Academy.
The school board will discuss details of the school start up Tuesday  at 1:15 p.m. An hour earlier, the meeting will be open for public comment. Signs larger than 8.5-inches by 11-inches are prohibited at the meeting, which will be held at board of education headquarters at 850 Hungerford Drive in Rockville.
Interim Superintendent Monifa McKnight issued an eight-page memorandum concerning reopening. It covers such topics as student and staff social and emotional development, mental health, curriculum, restorative justice, lunch practices and learning while quarantined.
Parents are circulating a petition asking that lunch, when students will not be wearing masks as they eat, be held outdoors. Under McKnight's memorandum, each elementary school will make its own plans, although those plans must include assigned seating by class. MCPS Department of Facilities Management has information on flexible seating options, including use of lap desks and floor chairs.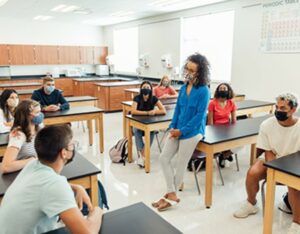 As for quarantining, fully vaccinated staff and students do not have to quarantine if they are exposed unless they develop symptoms. MCPS recommends that fully vaccinated people get tested for COVID-19 in three to five days after they have been exposed.
Anyone testing positive must isolate for 10 days. Staff will be able to use paid COVID leave during that time. If employees are not vaccinated or have a medical or religious exemption, they will either use their own leave or not be paid.
Instruction will be provided for quarantined students. Each school has designated staff members to teach quarantined students virtually.
According to McKnight, schools have improved ventilation and have a supply of face coverings to distribute.
During the previous school year, MCPS relied heavily on digital equipment, from Chrome books to virtual classes. The plan for this school year is to return to books, science laboratory tools, math manipulatives, musical instruments and art supplies. There will be a renewed emphasis on peer-to-peer collaboration, group discussions and projects.
During September, schools will evaluate the academic impact of the pandemic, administering Measures of Academic Progress assessment on students from kindergarten through 10th grade. However, during the new school year, MCPS does not plan to reteach content from the previous school year. "Instead, learning recovery opportunities strategically and intentionally will be infused into ongoing instruction," McKnight wrote.
Meanwhile, MCPS is working on contingency plans should a hybrid approach become necessary again. District officials have stated they will not end in-person learning unless ordered to do so by state officials.
Tuesday's Board of Education meeting begins at noon and is expected to end at 5:45 p.m. It will be streamed live on the board of education's website page and on YouTube.
The Board will meet tomorrow, Tuesday, August 24, with public items starting at 12 p.m. See the agenda: https://t.co/GHjrCBYv8H

Watch at https://t.co/9GhkLT32Ce or @MCPSTV (Comcast Channel 34, Verizon FIOS Channel 36, and RCN Channel 89).

— Moco BOE (@mocoboe) August 23, 2021