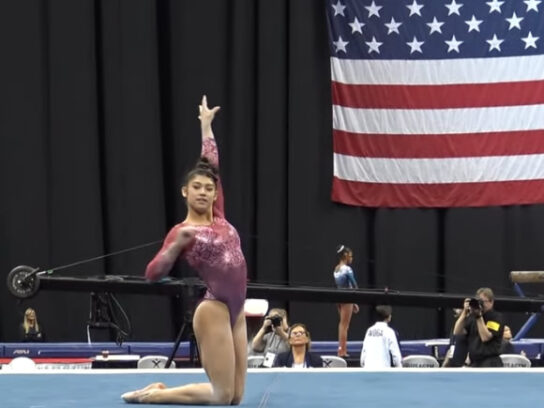 Gymnast Kayla DiCello, 17, finished third for the all-around title, first in the uneven bars and third in the floor exercise at the GK U.S. Classic in Indianapolis on Sunday.
The native of Boyds and junior at Northwest High School will compete in next month's U.S. Olympic team trials in St. Louis. The Olympics, which will be held in Tokyo, were moved to July 2021 due to the pandemic.
Watch DiCello's gold medal-wining performance in the uneven bars.
Simone Biles wins her 5th #GKClassic senior all-around title!

🥇 Simone Biles – 58.400
🥈 Jordan Chiles – 57.100
🥉 Kayla DiCello – 56.100

Full results: https://t.co/37i8Gju6k3 pic.twitter.com/pb2HudKS3o

— USA Gymnastics (@USAGym) May 23, 2021
Balance Beam medalists
🥇 Simone Biles – 14.850
🥈 Leanne Wong – 14.450
🥉 Kara Eaker – 14.100

Floor Exercise medalists
🥇 Simone Biles – 14.250
🥈 Jordan Chiles – 13.950
🥉 Kayla DiCello – 13.850

— USA Gymnastics (@USAGym) May 23, 2021
Balance Beam medalists
🥇 Simone Biles – 14.850
🥈 Leanne Wong – 14.450
🥉 Kara Eaker – 14.100

Floor Exercise medalists
🥇 Simone Biles – 14.250
🥈 Jordan Chiles – 13.950
🥉 Kayla DiCello – 13.850

— USA Gymnastics (@USAGym) May 23, 2021
Related post: