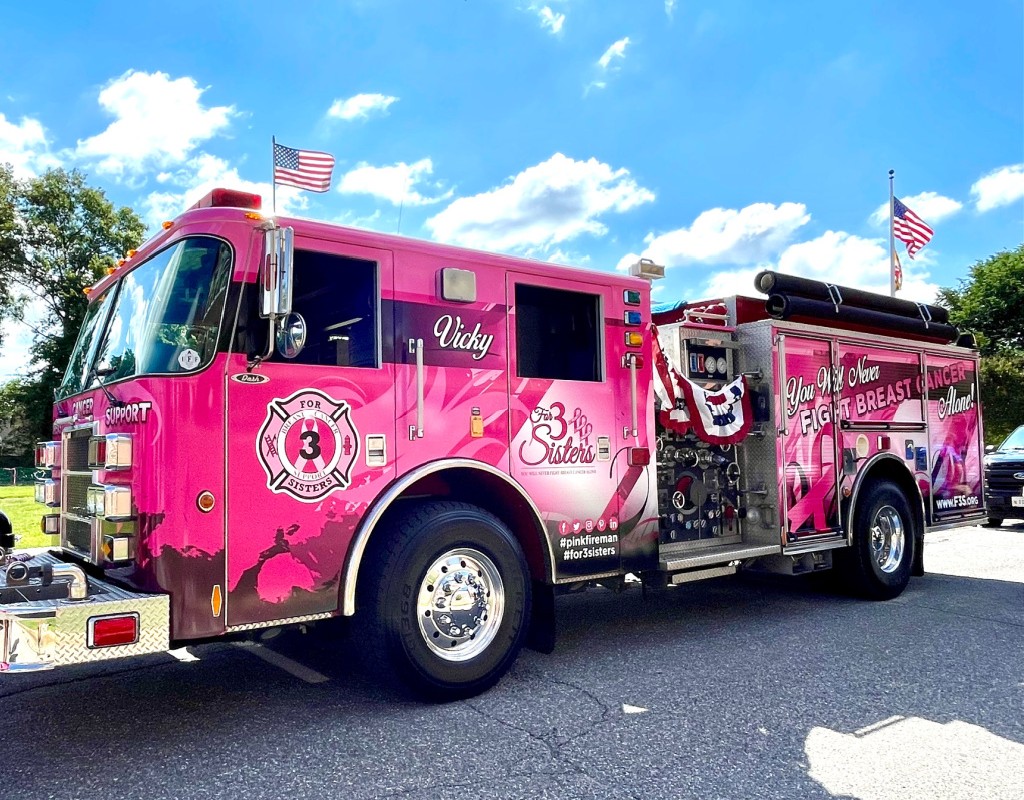 Breast Cancer Awareness Organization Debuts Vicky, the Pink Firetruck
In memory of the three sisters that a former Bethesda career firefighter lost to breast cancer, the nonprofit, For 3 Sisters of Olney, converted an old fire truck to let those with breast cancer know they are not alone. The converted firetruck also will be used to convince women to get regular mammograms.
The pink firetruck, dubbed Vicky for Firefighter Marshall Moneymaker's oldest sister, officially will be introduced to the community at noon on Oct. 2 at the Lone Oak Farm Brewing Company, 5000 Olney Laytonsville Road. The public is invited to the event that takes place during Breast Cancer Awareness month.
Marshall Moneymaker, the now-retired career Bethesda firefighter, founded For 3 Sisters and became known as the Pink Fireman in April 2011. He joined the firefighter cadet program while still a student at Damascus High School and later was assigned to Station 6 in Bethesda. Together with his fellow firefighters, he dealt with the deaths of his three sisters, Vicky, Penny and Valessa, all within a two-year span.
"For many years, we said the pink fireman needs a pink firetruck," said Shannon Moneymaker, executive director of For 3 Sisters and Marshall Moneymaker's wife. Prior to the pandemic shutdown, the Moneymakers learned that Montgomery County was auctioning off five firetrucks, including one that had been stationed in Bethesda since 2002.
In April of 2020, the nonprofit purchased the 2002 Pierce fire engine for $7,300 and began imagining it traveling the country, spreading hope, support and strength, particularly in low income areas. For now, it will only circulate in the greater D.C. area.
The organization was fortunate to connect with Adam Blackman, a former Prince George's County firefighter, who runs a commercial business and donated his services to transform the firetruck. It was screened in bright pink for breast cancer awareness and bears the message, "You will never fight breast cancer alone."
Mark's Equipment Service in Frederick repaired the firetruck so it could get back on the road.
Vicky made her debut on June 5, the eve of National Cancer Survivors Day, but will become more active now, Moneymaker said. "It's been a journey," she said.
Based in Olney, MD, For 3 Sisters is celebrating its 10th year.
Related Post
Breast Cancer Non-profit 'For 3 Sisters' Opens New Headquarters in Olney (PHOTOS & VIDEO)