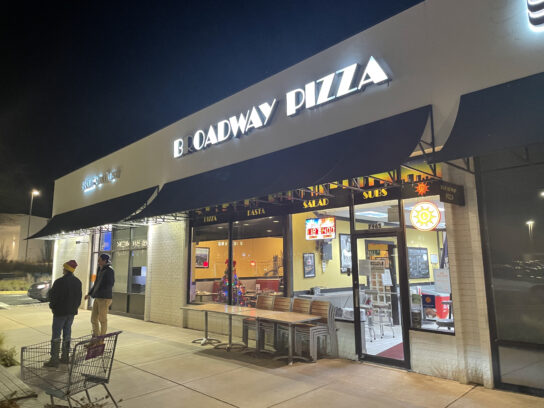 Broadway Pizza, a staple at Cabin John Village in Potomac for 27 years, is closing its doors for good. MyMCM has learned that Christmas Eve will be the last day of operation.
Dan Dubie, Broadway Pizza partner, called his restaurant "a community go-to pizza joint." He told MyMCM that they have been trying to renew their lease for awhile but, ultimately, Cabin John declined. Dubie said he was disappointed but not shocked. "Everyone is sad we're leaving."
A handful of other tenants at Cabin John Village, including Capital One Bank (which opened a new branch near the old one) and The Grilled Oyster, are also shuttered. Many more changes are afoot at Cabin John Village to make way for a new road/walkway in between  Giant Food and CVS.
Store Reporter was first to report that Broadway Pizza's lease would not be renewed.