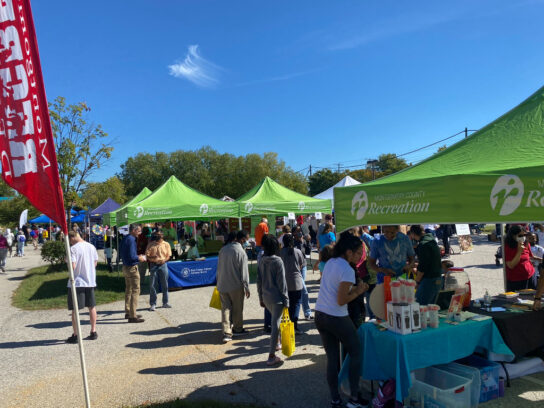 The 30th annual Burtonsville Day Parade and Festival took place on Sept. 25, according to the event's flyer. The 29th annual Parade and Festival was held in 2019, while the 2020 Parade and Festival was cancelled due to the pandemic.
Burtonsville Parade and Community Day was a hit on Saturday. The weather was great and, as usual, the community showed up and showed out, but just in case you missed it, here are a few photos… #communityfirst #fall pic.twitter.com/1rxE9l5SJ9

— MoCo Rec (@MoCoRec) September 27, 2021
Saturday's event featured live music, vendors, a demonstration by Musa Martial Arts, activities for children, and pet adoptions and services. Several organizations also worked to provide resources to the community, including free health screenings , information on County vaccination sites and voter registration.
Burtonsville Day 2021
all Bengals pic.twitter.com/L4zZ9Dt444

— Kathy McGuigan Peter (@kmcpeter1) September 25, 2021
Don't miss the 30th anniversary Burtonsville Day Festival 🎶 💃🏼 🌭 pic.twitter.com/fBlIdY6PQ9

— Evan Glass (@EvanMGlass) September 25, 2021
This year's theme "Better Together," meant that organizers sought to encompass the community's diversity in the festivities. Several elected officials and candidates for political office were in attendance — including prospective County Executive David Blair; Tom DeGonia, who is running for County State's Attorney; and Delegate Eric Luedtke of Maryland's 14th District.
Yesterday was an absolutely perfect day to celebrate Burtonsville Day! Thanks to all the supporters who marched with us and said hello along the parade route. pic.twitter.com/OJlCtUhnvk

— Delegate Eric Luedtke (@EricLuedtke) September 26, 2021
Parade season continues! I had a blast at the Burtonsville Day Parade today, thank you to all the organizers and folks who came out. Change for our community happens one conversation at a time. pic.twitter.com/7FVNbEMmpW

— Tom DeGonia (@tomformoco2022) September 25, 2021
Burtonsville Day is back! Terrific to see so many people along the parade route! Come say hi to the #BetterWithBlair team this afternoon at the Praisner Community Center. pic.twitter.com/IDQw5pWfoK

— David Blair (@DavidTBlair) September 25, 2021
Nina's ready to assist you @ today's Burtonsville Day celebration (https://t.co/ca8BxW2AaG)! Register to vote 🗳, and/or sign-up to become an election judge 🙋‍♀️🙋‍♂️. #YourVoiceYourVote2022 #ShareThisPostNotCOVID19 #MoCoSecuringYourVote2022 pic.twitter.com/v2X4EIlE3k

— MontgomeryMDVotes (@777Vote) September 25, 2021