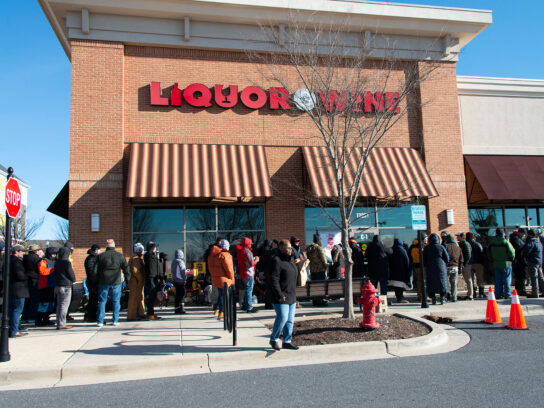 Montgomery County Alcohol Beverage Services (ABS) set a new sales record at the one-day Whiskey Rocks event on Friday, Jan. 17 at the Clarksburg Village Liquor and Wine Store.
The store's sales for Jan. 17 was $196,250. According to a statement by ABS Director Bob Dorfman, the store typically makes about $10,000 on a Friday in January.
Hundreds of people were in line before the Clarksburg store opened Jan. 17 at 10 a.m. The line wrapped around the store and the first customer arrived at 10 a.m. the day before the event.
MyMCMedia's Cindy Peña was at the Whiskey Rocks event:
The Whiskey Rocks event included limited release products available for purchase on a first-come, first-serve basis. Throughout the day, the Whiskey Rocks celebration featured a combination of timed product releases, tastings, engravings, barrel picks, bottle signings and seminars.
The previous record of $126,226 in net sales was set in June 2019 at the Burtonsville ABS store's Whiskey Rocks celebration.
The Clarksburg Village store is one of 25 beer, wine, and liquor retail stores run by the county which distributes almost all alcohol sold in the county. The county generates about $35 million in profits annually which are used to pay off County debt and contribute to the County's general fund.
According to Dorfman, the next Whiskey Rocks event will take place next winter.