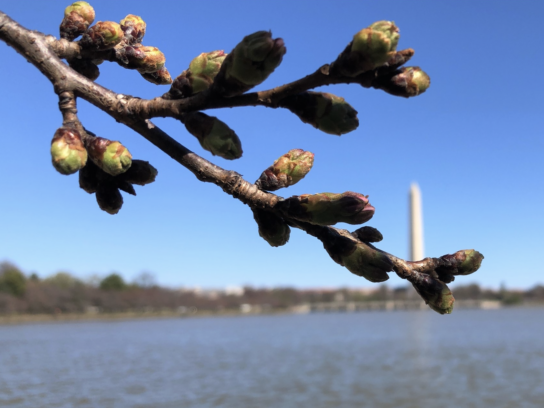 The cherry blossoms in D.C.'s Tidal Basin reached the third stage of the blooming cycle, the National Park Service announced Tuesday.
Stage 3 is the extension of florets, marking halfway to peak bloom as the trees transition through six phases ending with peak bloom. After Stage 3 comes peduncle elongation and puffy white until the blossoms open.
Peak bloom is when 70% of the Yoshino cherry blossoms are open, which is predicted between March 22 and 25, though it depends on the weather conditions. Since 2004, the trees have only reached Stage 3 earlier than March 7 once before. In 2017, the trees entered Stage 3 on March 6.
If ideal weather conditions remain, peak bloom could last for about 10 days.
(Featured photo courtesy of the National Mall and Memorial Parks, National Park Service @NationalMallNPS)
We're halfway to peak bloom! The cherry blossoms have reached florets extended, the 3rd of 6 stages.
🌸🌸🌸/🌸🌸🌸
Follow along online: https://t.co/h04Gu0ksc1 #Cherryblossom #BloomWatch #WashingtonDC pic.twitter.com/boGIUX9Bcd

— National Mall NPS (@NationalMallNPS) March 7, 2023