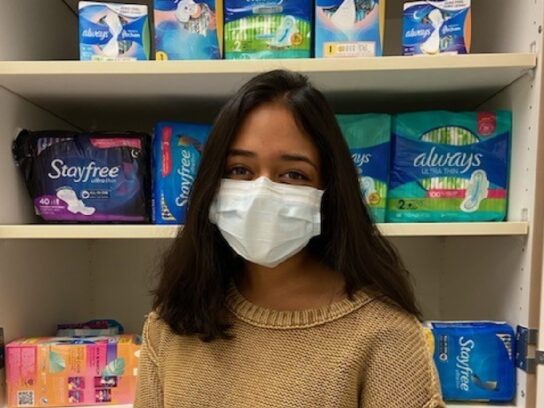 Maryland enacted a law mandating that all secondary schools ensure that students needing menstrual hygiene products obtain them easily and at no charge by 2025.
While some students at Winston Churchill High School were pleased, others thought that goal was too far in the future. They started their own Period Club, which is a global youth-powered nonprofit, during the 2020-2021 school year and began fundraising and placing menstrual hygiene products in girls' bathrooms.
The student members, and there are about 60 of them currently, strive to purchase and place the products in the bathrooms and also hold drives for homeless shelters to be able to provide free products, explained President Ela Jalil, a senior at Churchill.
Students who attend the high school in Potomac do not all come from wealthy families as many believe, she said. "There are still students who face period poverty. They feel more pressure," especially when they must go to the nurse's office to ask for the products.
"It's embarrassing. It's not supposed to be embarrassing. It's a human function," she said.
To start up their Period Club, students asked the school administration for permission, which they received in about a month. However, Jalil said, the administration emphasized it would have nothing to do with the club and would not provide any funding.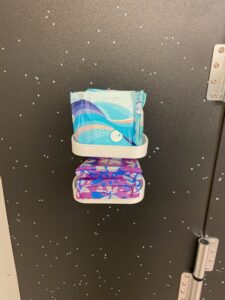 So the students took it upon themselves to hold a fundraiser, where they earned $300 and received numerous donated menstrual hygiene products.
Their efforts haven't been easy, Jalil said, noting, "Students can unfortunately be destructive."
During the first go-around, members of the Period Club placed a basket filled with products on a chair in the bathroom. "Chairs were taken out by students, and the products were thrown away," she noted.
Then they placed the products on a shelf that they installed with a suction cup. Last week, one shelf was pulled down, according to Jalil. "On the bright side, that was one bathroom out of eight," said Jalil, who has sent in all her college applications and hopes to study journalism.
According to Medical News Today, 16.9 million people who live in the United States and who menstruate live in poverty.