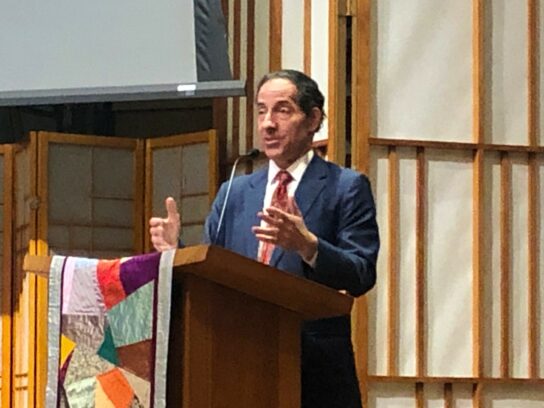 Many Americans who remained glued to their televisions, computers and phone screens saw U.S. Rep. Jamie Raskin in action for the first time. As lead manager for the U.S. House of Representatives, he has received considerable airtime throughout the impeachment hearings.
But for many who live in the 8th Congressional District, which includes Silver Spring and Takoma Park, Raskin's enthusiasm for the law and storytelling ways to explain history and the Constitution are not new at all. Throughout his three terms as a Maryland senator and his current second term on the federal level, the Takoma Park resident has shared his passion for the Constitution and progressive politics.
On Thursday in the U.S. Senate Chamber, Raskin referred to Thomas Paine's 1776 historic pamphlet concerning why it was just common sense to break away from Britain rather than reconcile and continue on as its colony. As Raskin noted in his speech, Paine became famous for saying, "These are the times that try men's souls," although Raskin updated the quote to include women's souls as well.
It is time once again, Raskin said, to use common sense. "Common Sense is also the sense we all have in common as a community." He urged senators, "Exercise your common sense about what just took place in our country" when deciding whether to impeach former President Donald Trump.
Below is his almost three-minute speech about common sense which County Executive Marc Elrich shared on Twitter.
I am so proud and appreciative of my Representative that @RepRaskin for his powerful and eloquent defense of our Constitution and democracy. P https://t.co/3GSNm5TTqD

— Marc Elrich (@Marc_Elrich) February 12, 2021