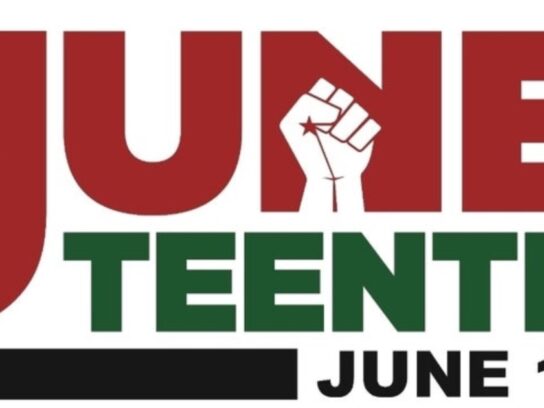 Juneteenth commemorates June 19, 1865, the day that slavery officially ended. It is the oldest, nationally celebrated remembrance of the ending of slavery in the United States.
The day celebrates emancipation and empowerment and emphasizes education and achievement.
This year, because of recent killings of African Americans by active and retired police officers and the resulting protests across the country, Juneteenth has received wider attention and taken on added significance.
The name "Juneteenth" comes from the blending of "June" and "nineteenth".
States across the country, including Virginia and New York, have recently pushed to make Juneteenth a state holiday.
Although several states recognize and observe Juneteenth, many people across the nation are calling for the day to be recognized as a federal holiday. On January 1, 1980, Juneteenth officially became a Texas state holiday – making it the first state to do so. Since then, 45 other states and the District of Columbia have also commemorated or recognized the day according to the Congressional Research Service.
President Lincoln signed the the Emancipation Proclamation on January 1, 1863 to abolish slavery. However, due to lack of technology and mass communication, many slaves did not know they were free and had no idea that they were being enslaved illegally until June 19, 1865, when the Union soldiers arrived in Galveston, Texas, with an announcement that slavery had been abolished. Slaves there learned for the first time that the Civil War was over, and that they were free. Some historians speculate that the Emancipation Proclamation had little impact on the Texans due to the minimal number of Union troops to enforce the new Executive Order.
Here are some ways to observe Juneteenth:
Read the Emancipation Proclamation.
Watch documentaries like Juneteenth Jamboree by PBS.
Read stories about Juneteenth to your children or for enlightenment.
Raise a Juneteenth flag which is half red, half blue with a white 5 point star in the middle. Historians say the flag symbolizes Texas bursting with freedom and the end of slavery.
Find a virtual event near you. Share your experiences, photos, and stories using #Juneteenth to share on social media.
Prayer services are also a significant part of the celebration.
This video from CNN discusses the history and significance of Juneteenth.
Shebra Evans, the President of Montgomery County Board of Education and Jack Smith, Superintendent of Schools emailed teachers this week asking "that no meetings be held on this day to give you and your colleagues an opportunity to step back, process and reflect on all that has been happening and how we can move forward to truly fulfill the mission of our school system. We ask that you take time to consider how your work and commitment moves our students and school system closer to our goal of a more just and equitable community."
Corporations and institutions around the country have decided to honor the day in different ways:
.@Target is proud to recognize Juneteenth as an official annual company holiday. Hourly team members scheduled to work that day will be paid holiday premium pay as stores + DCs remain open. U.S. HQ locations are closed in observance. Click for details: https://t.co/Nlz0FHIifc pic.twitter.com/oZKjfldpbr

— Target News (@TargetNews) June 16, 2020
Commissioner Roger Goodell announced the @NFL will observe Juneteenth on Friday, June 19 and the league's offices will be closed. https://t.co/Oh75uxv2Xp pic.twitter.com/c3CEqMLH3y

— NFL Football Operations (@NFLFootballOps) June 16, 2020
On Friday, June 19, Harvard will be closed to commemorate Juneteenth https://t.co/GSJN1KID8l

— Harvard University (@Harvard) June 16, 2020