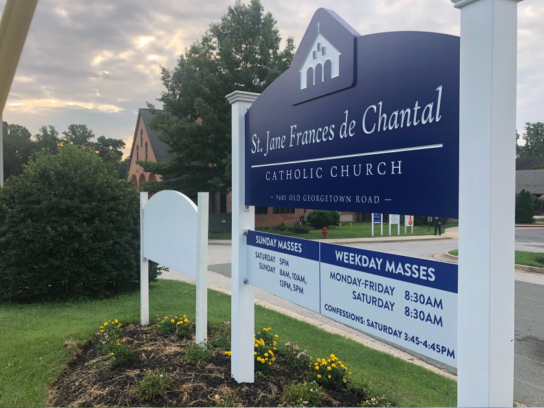 Members of 80 faith-based organizations and houses of worship signed onto a letter stating they stand in solidarity with the three churches in Bethesda that were vandalized and two that also were set on fire during the weekend of July 8 to 10.
St. Jane Frances de Chantal Catholic Church and North Bethesda United Methodist Church both were vandalized and damaged by fire. The cemetery adjacent to the Wildwood Baptist Church was vandalized.
"The Faith Community Advisory Group is very disturbed to learn about the incidents," and noted, "We strongly condemn these manifestations of intolerance and hate."
The letter stated, "We stand firmly with the community members impacted and encourage those who reside in Montgomery County, MD to continue to work toward building a more inclusive community that welcomes and respects people no matter their religion, race, color, creed, national origin, sex, gender identity or disability. Differences in opinions and viewpoints are not a reason for anyone to take hateful actions, and prove our need for mutual respect and understanding in Montgomery County."
The letter ends, "Hate and bigotry have no home here in Montgomery County." It is signed by people of many different religions.
Pastor David Sayne of Wildwood Baptist Church told MyMCM that "12 gravestone markers were turned over and some where broken and smashed" in the cemetery that is adjacent to the church. "Some can be set back up. Others will have to be repaired and replaced," he said.
A wooden cross that the church uses during Easter was desecrated. It was pulled out of the ground and thrown onto the nearby Old Georgetown Road, Sayne said.
Father Samuel Giese at St. Jane Frances de Chantal Church told MyMCM there was no structural damage done to the church. "We will have to replace some pews and replace some other items."
As he spoke Wednesday morning, the church was being cleaned, and Giese said he hoped "we will be back in the church by this weekend."
Despite the damage, Giese said he was "gratified" that so many have reached out in support and encouragement. Good wishes have "come from all corners," he said.
During St. Jane Frances de Chantal Church's July 10 service, which was shown on You Tube, Giese told his congregation, "People broke in. They overturned statues, tore down the Stations of the Cross, desecrated the tabernacle and tried to set the church on fire."
Giese said, "I believe this is because the church's stand on the issue of life, when it begins and that it should be protected," referring to the U.S. Supreme Court's overturning of Roe v Wade.
Fires were set and the kitchen was damaged at North Bethesda United Methodist Church Friday night. Guest Rev. Joye Jones noted during her Sunday service, which also could be viewed on You Tube, that "none of the attempted fires took hold." She told congregatants, "We can replace all the stuff that was in the kitchen that was damaged."
She referred to the damage as more mischief that vandalism and added, "They can damage the structure [of the building], but it is a different thing to damage the church."
Montgomery County Fire/Explosive Investigators seeking info RE recent ARSON on (Sun 7/10) fire at St Jane Frances de Chantal Catholic Church & on (Sun 7/9) fire at North Bethesda United Methodist Church – ANYONE w/ any info Call @mcfrs ARSON Tipline 240.777.2263 @MontgomeryCoMD pic.twitter.com/1SjdYoVwMg

— Pete Piringer (@mcfrsPIO) July 13, 2022
ICYMI (7/9) ~130a Sat morn 10100 Old Georgetown Rd, North Bethesda United Methodist Church, arson & associated vandalism, damage ~$1K, in addition Investigators located damaged head stones & broken wood pieces scattered 10200blk Old Georgetwn Rd A/F Wildwood Baptist Church pic.twitter.com/JJuWs4EMvS

— Pete Piringer (@mcfrsPIO) July 10, 2022