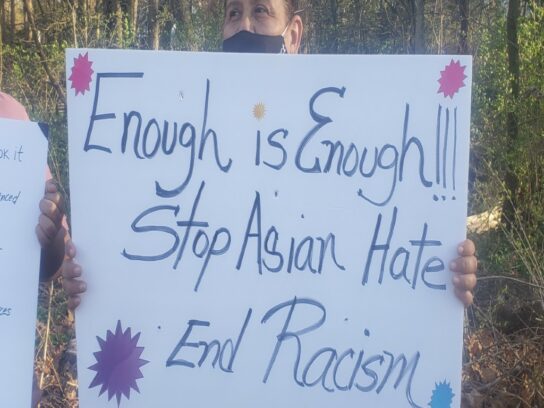 A crowd of Asian American residents and supporters marched from Sligo Creek Parkway to the Silver Spring Civic Center Friday night, carrying signs against racism – in particular anti-Asian hate and violence.
Meghana Narayan, whose family is from Southern India, was still reeling after learning that a man with a gun had killed eight people, including six Asian women, at three massage parlors in Atlanta, Ga. on March 16. She searched for some group in Montgomery County that was planning some kind of protest and was surprised when she couldn't find anything.
"I was pretty disappointed in the county," she said.
So she took to social media and her cell phone, contacting many in the Asian American Pacific Islander (AAPI) communities. Four days later, she stood, megaphone in hand, urging those gathered in Silver Spring to raise their signs high is solidarity.
"Growing up in this county, and going to school in this country, I most certainly did" experience anti-Asian bigotry, she told MyMCM.
Jane Park, a Silver Spring resident and member of Impact Silver Spring, carried a sign that read 'Asian Women Rise Up.'
"As an Asian American, I am just really concerned with the surge in anti-Asian violence," she said. While she hasn't experienced anything personally recently, Park said that was partly because she has been quarantining at home.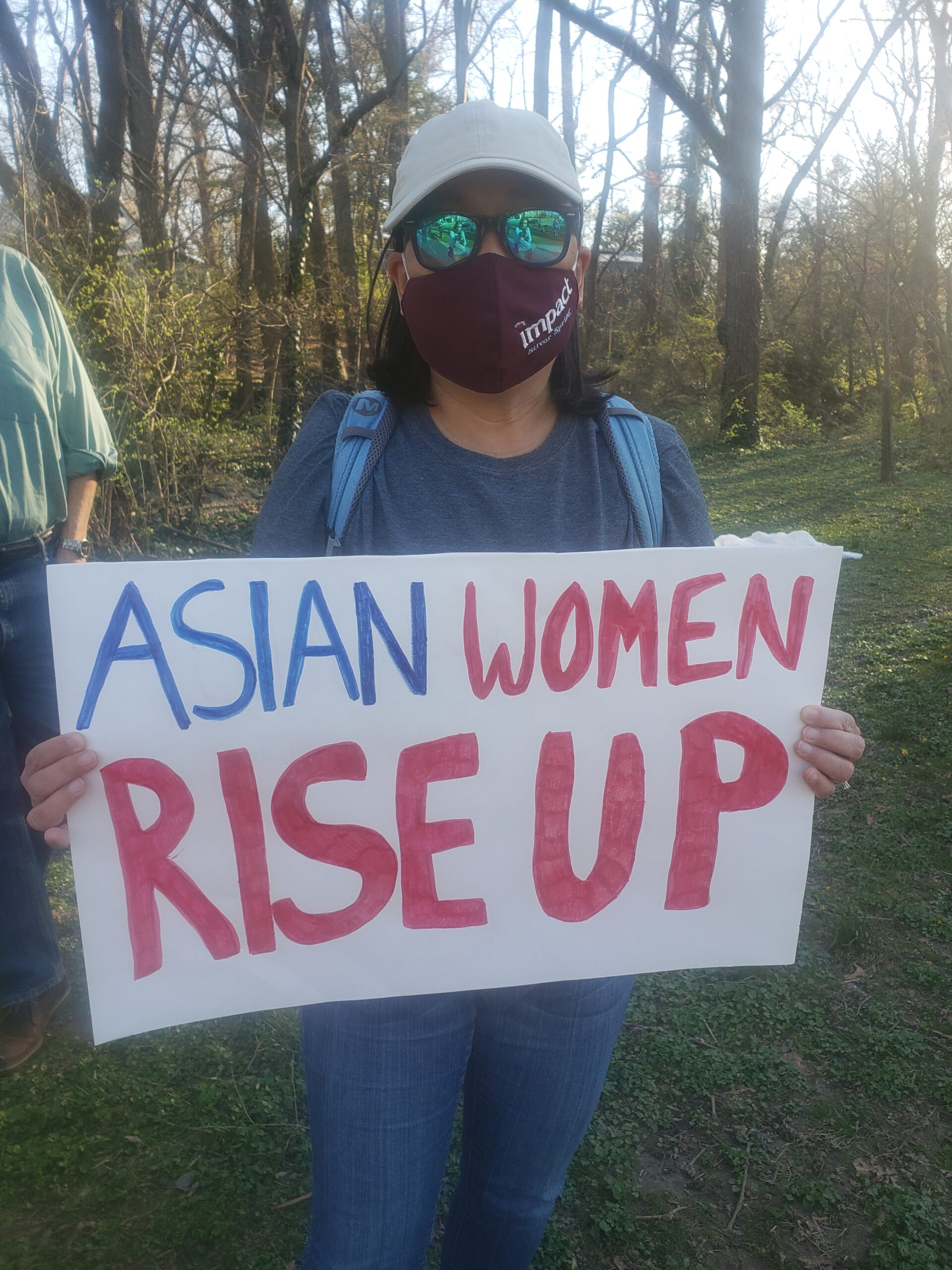 Diane Hibino of Bethesda described herself as a Japanese American who grew up in the United States. Still, she said, at any time someone could look at her, believe she had just arrived in America recently from China and start spewing hatred. That is why she came to the rally. "I realize it is much bigger than me. If I don't step up and say something, it may be too late," she said.
Hibino, co-president of the Montgomery County League of Women Voters, looked around the crowd and declared, "We are all at risk."
When the participants arrived at the civic center building on Veterans Plaza in Downtown Silver Spring they listened to a few speeches while holding lit candles.
Friday marked National Day of Action and Healing to Stop Asian Hate. U.S. Rep. Jamie Raskin hosted a virtual discussion with Maryland Gov. Larry Hogan, First Lady Yumi Hogan and Delegate David Moon (D-20).
"Today so many Asian Americans live in fear. Why do we need to be afraid? As proud citizens of this country, we shouldn't be afraid of anything. We must stop hate. Hate has no home here," the First Lady said during the discussion.
"Things have been happening for a long time," said Gov. Hogan. "I can tell you I hear stories from my wife and my daughters about things they have experienced their whole lives, but there's no question that the hatred, the vitriol, the violent attacks have escalated dramatically over the past year as we are all dealing with COVID-19."
Noted Moon, "After a year capped by the President calling this "kung flu" and the "China virus," we had on the House Floor this past week elected members trying to link immigrants to COVID-19 and 9/11 terrorism so believe me it's been there since my childhood and it's on the House Floor this month."
Listen to the discussion here.
According to a report released by Stop AAPI Hate, there have been 140 hate incidents reported in Washington, D.C., Maryland and Virginia since March 2020. In Montgomery County, two Asian restaurant owners in the Silver Spring-Takoma Park area were followed home and robbed. The two separate incidents happened about a month apartment, beginning in January, and police aren't sure if they were crimes of hate.
Also Friday, U.S. Sen. Chris Van Hollen issued a statement in support of a Senate resolution condemning hatred against Asian Americans, noting,  "We cannot be silent in the face of the violence and hate targeting our Asian American and Pacific Islander communities. Each of us not only has a moral obligation to forcefully speak out against this bigotry and racism, but to also take action to stop it. That's why this resolution wholly condemns these despicable words and actions and calls on all levels of government to do more to combat this hate."
In solidarity with our AAPI community. March and Vigil to #StopAAPIHate in Silver Spring this evening. pic.twitter.com/igo9XaQRsq

— Lorig Charkoudian (@LCharkoudian) March 27, 2021