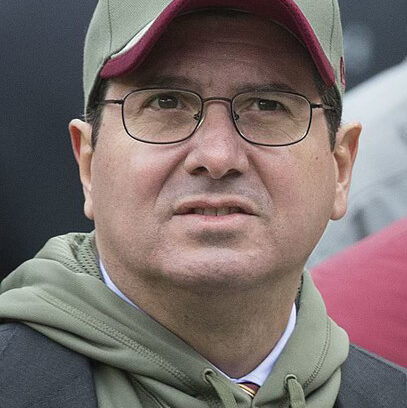 During a two-hour Congressional committee roundtable, several members of the then-Washington Football Team (WFT) spoke of constant workplace sexual harassment and assault. They urged members of Congress to make public the National Football League's report on the matter.
Former cheerleader and marketing director for the team, Melanie Coburn, said she was subjected to sexual harassment and treated like a sexual object. Under owner Daniel Snyder's leadership, women were "tools to increase sales," she said Thursday morning at a roundtable before the Oversight Committee.
Snyder made the decision about who was a cheerleader and who made the team's calendar, she said. "We were objects."
The work atmosphere resembled a frat party, she said, adding, videos were made of the women. "Daniel Snyder rules by fear."
Although she reported these issues to others in the organization, nothing happened. And she was told to keep quiet. "I was young, and it was my first job," she said.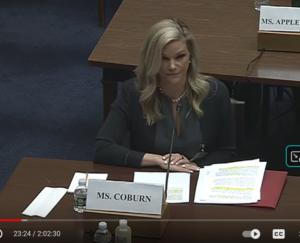 This continued throughout the 14 years she was employed by the team. When asked how often the harassment, touching, and ridicule occurred, Coburn said, "It's too many to count, more than 100, more than 200." She added, "I was arm candy."
Tiffani Johnston, a former cheerleader and marketing manager, spoke specifically of sexual advances Snyder made to her.
During a work dinner, she was strategically seated next to Snyder "to allow him, Dan Snyder to place his hand on my thigh under the table."
During  her eight-year tenure with the team, "I learned how to discretely remove a man's unwanted hand from my thigh," she said. "I also learned, later that evening how to awkwardly laugh when Dan Snyder aggressively pushed me towards his limo with his hand on my lower back encouraging me to ride with him to my car."
When she reported the incident to a senior coworker, she was told not to repeat the story to anyone. "That is when I also learned that there was no one to go to" and there was "no path to report the incident, so I learned to  move on."
In July 2020, the WFT hired attorney Beth Wilkinson to conduct an internal investigation into these allegations. But just over a month later, the WFT announced that it was turning the investigation over to the NFL. The NFL has not publicly disclosed the findings of that investigation.
U.S. Rep. Carole Maloney, (D-N.Y.), presided over the two-hour roundtable. Using the team's new name, the Commanders, she said, "In this roundtable, I hope to learn who was the commander of taking videos of women." She was referring to secret videos featuring lewd outtakes from cheerleader photoshoots revealed by the Washington Post.
Following that report, Snyder was fined and given a slap on the wrist, Maloney said. She added unless that report is made public, a toxic workplace will continue not just with this football team but in businesses throughout the country.
While the vast majority of Congressional members sympathized with the women and what they endured, some said their relief needs to come through the courts and not through Congress.
Rep. Jackie Speier of California disputed that. She pointed out Congress can outlaw nondisclosure agreements (NDAs) in regards to sexual assault. It can also revoke the NFL's tax-exempt status.
Maloney and Illinois Rep. Raja Krishnamoorthi, chair of the Subcommittee on Economic and Consumer Policy, wrote to NFL Commissioner Roger Goodell requesting all documents and communications obtained in the Wilkinson investigation. They also asked the NFL and the Washington Football Team to release everyone from NDAs that prevent them from speaking out.
Six people spoke about what they called the team's toxic environment, including Brad Baker, who was involved in producing the team's videos. Tiffani Johnston, a cheerleader and marketing manager, said she was constantly subjected to "a boy's locker room culture" and was told to wear low-cut blouses when making sales. 
Here is the full roundtable.
Ready for the House Oversight Committee! #releasethereport pic.twitter.com/Mozic36nzp

— Lisa Banks (@LisaBanksKMB) February 3, 2022
As a cheerleader and a marketing manager for @Commanders, Tiffani Johnston was subjected to sexual harassment on multiple occasions.

Today, she is sharing her story publicly. WATCH: pic.twitter.com/1VB6Jn37wW

— Oversight Committee (@OversightDems) February 3, 2022
Previous post:
Former Washington Football Team Employee from Silver Spring Calls for Accountability