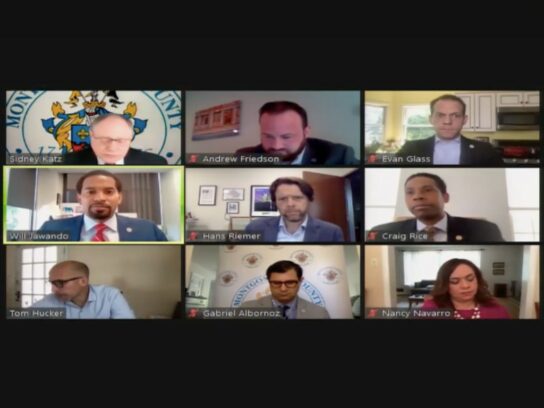 Montgomery County Councilmember Will Jawando introduced a resolution to declare racism a public health emergency at a council meeting Tuesday. 
He discussed the killings of black people, like George Floyd, by police officers. 
"It's long past time we focus on the direct link to these deaths and these poor outcomes: racism," Jawando said. He brought up racial health issues that have been ongoing and are even more obvious right now.
"Health disparities in particular have amplified during the COVID-19 crisis, as African Americans have the highest number of recorded cases and deaths." 
Councilmember Craig Rice said his daughters used to tell him that no one sees race anymore. But, over the past couple of weeks, they no longer feel that way. 
"We've now broken the spirit of a generation who actually thought we were on the right track," Rice said. 
"We were actually making progress in terms of children thinking that they lived in a world where they were accepted and not judged based on what they look like. And now the articles that my daughter sends me every day of police brutality, of racism… has completely changed her outlook on society." Rice said.
He added that if things do not change, everything that Montgomery County, Maryland, and the U.S. has fought for will be jeopardized. 
Racism is a Public Health Crisis. #racism #publichealth https://t.co/uXgEsB1biw

— Will Jawando (@willjawando) June 8, 2020
The council will vote on the resolution on Tuesday, June 16. On FOX 5 DC, Jawando said all councilmembers support it. He said, if passed, the first legislation will be a bill to change the use of deadly force standard for police officers from reasonable to necessary. The bill will outlaw chokeholds, knees to the neck and head, striking someone who is handcuffed, and will require officers who witness another officer's crime or excessive force to intervene, Jawando said.