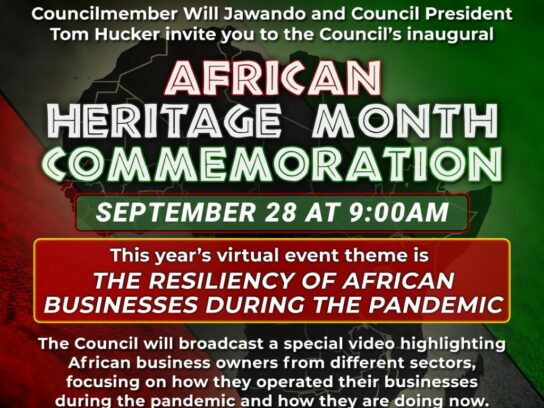 The Montgomery County Council will hold its inaugural African Heritage Month commemoration Tuesday at 9 a.m. prior to the Council meeting, according to a press release.
The virtual commemoration will be hosted by Councilmember Will Jawando, whose father is Nigerian, and Council President Tom Hucker. The event will feature a video segment and a proclamation presentation related to this year's theme — Resilience of African Businesses during the COVID-19 Pandemic.
"African businesses are a fast-growing segment of our local economy and each one has fought hard to survive the devastation of the pandemic. As we celebrate African Heritage month, we salute our African businesses and thank them for their many contributions to Montgomery County," Jawando said.
According to the press release, Montgomery County is the first municipality in the nation to proclaim the month of September as African Heritage Month. More than 54,000 Africans reside in the County, making up 15 percent of the County's overall immigrant population.
"African Heritage Month is an opportunity to celebrate the unique and diverse culture and heritage within the African diaspora," Hucker said.
Residents can view the commemoration live on the Council's Facebook page, Youtube channel and website. Residents will also be able to tune in via television on Comcast/RCN channels 996/1056 Verizon channel 30.