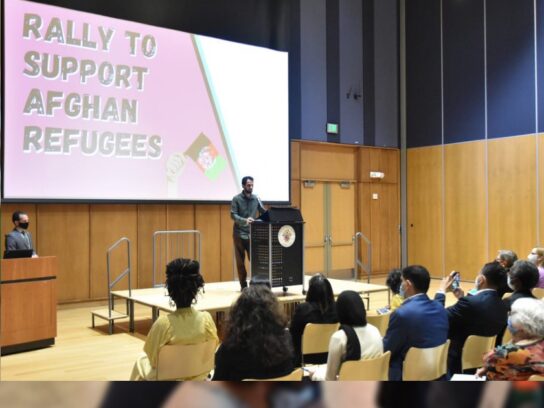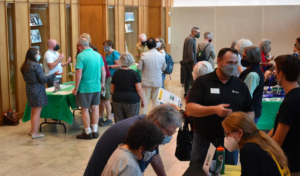 Montgomery County Councilmember Evan Glass hosted an emergency rally to support Afghan refugees on Thursday evening at the Silver Spring Civic Building.
"With so many Afghans forced to flee their homeland due to threats of violence and loss of fundamental rights, our community stands ready to welcome these refugees and help them restart their lives in Montgomery County and the Metro D.C. area," said Councilmember Evan Glass.
During the event, community members rallied alongside nonprofit, faith-based, and student organizations supporting Afghan refugees resettling in Montgomery County and Maryland. Many local leaders and some refugees also gave touching remarks.
Here are some highlights from the event:
"Montgomery County is a beautifully diverse place. Immigrants, asylum seekers, refugees, and all newcomers strengthen the fabric of our community by enhancing our cultural economy. We are committed to working with county, state, federal and nonprofit partners to resettle Afghan refugees and help provide the support they need," said Councilmember Glass in a press release.
The main discussion centered around efforts currently underway to offer support, especially housing and healthcare resources.  Montgomery County Office of Emergency Management Director Dr. Earl Stoddard says the county continues to coordinate with nonprofits for housing assistance and other needed resources.
"We have received some Afghan refugees, the last number I had was north of 40, and they have been placed as family units…they began arriving before July, and we began working with them to get them placed and get them supported," said Dr. Stoddard during a virtual media briefing last week.
 

View this post on Instagram

 
Thank you @TomPerez for attending our rally in support of Afghan refugees and for your commitment to helping make Maryland their new home. https://t.co/vA9FipfH2P

— Evan Glass (@EvanMGlass) September 10, 2021
Our community stands ready to welcome Afghan refugees and help them restart their lives in Maryland and the D.C. region.

Join us on Thursday to show your support for our new neighbors and learn how you can provide assistance. pic.twitter.com/yXFGrmpMaV

— Evan Glass (@EvanMGlass) September 8, 2021