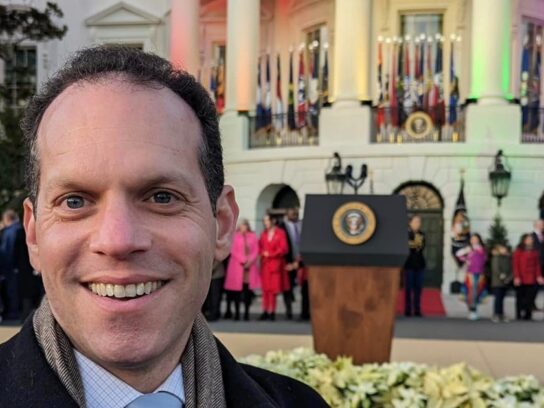 Council President Evan Glass rode the Metro to the White House Tuesday to witness firsthand President Joe Biden signing the Respect for Marriage Act into law.
The first openly gay member of the county council tweeted, "Love wins on Tuesday."
Love wins on Tuesday.#RespectForMarriageAct pic.twitter.com/s37Kb6hs49

— Evan Glass (@EvanMGlass) December 13, 2022
The law grants federal protections to same-sex and interracial couples. It does not force states to approve marriage licenses to same sex couples. It does consider a couple to be married in any state if they were legally married in a state that allows same sex marriages.
Also witnessing the event was Maryland Del. Bonnie Cullison.
Waiting for history to be made. @joncoopertweets #RespectForMarriageAct pic.twitter.com/ubsu3q9Q18

— Evan Glass (@EvanMGlass) December 13, 2022
Thank you, @POTUS, for signing the #RespectforMarriageAct into law, thus protecting the freedom to marry for all same-gender and interracial couples. Love is love, and that is now the law. A great day for our country, our county, and countless families. #Presidentbiden

— County Exec Marc Elrich (@MontCoExec) December 13, 2022
Marcia and I are soooo excited to be sitting on the South Lawn of the White House. Soon the President will sign the Respect of Marriage into law!! pic.twitter.com/bmL1XeUQVW

— Delegate Bonnie Cullison (@Del_Cullison) December 13, 2022
It's clear that we can never take critical rights – including the right to love who you love – for granted.

Today's signing of the historic Respect for Marriage Act and its protections of same-sex and interracial marriage are an important step forward to protect those rights.

— Wes Moore for Maryland Governor (@iamwesmoore) December 13, 2022
The White House is lit up rainbow tonight in celebration of President Biden signing the Respect for Marriage Act. pic.twitter.com/vDaydF4NZH

— The White House (@WhiteHouse) December 14, 2022