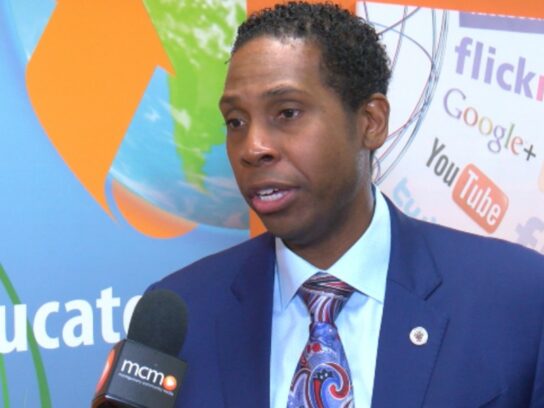 Councilmember Craig Rice is the new co-chair of the National Association of Counties' Broadband Task Force.
The goal of the task force is to study the lack of reliable broadband, including a focus on the challenges of facing underserved communities. The task force consists of about three dozen county government officials from across the country.
Nearly two-thirds of the counties have internet speeds below minimum standards set up the Federal Communications Commission. In rural areas, nearly 77% of counties operate below FCC standards, according to the report, Understanding the True State of Connectivity in America, which was released by the association and its partner organizations.
"With the COVID-19 pandemic affecting families and businesses, the need for reliable high-speed internet is more acute than ever," Rice said in a press release.
"These are issues we are striving to overcome in Montgomery County where we currently estimate 40,000 households do not have broadband. Elevating this conversation to a national task force will ensure innovative solutions are shared and implemented," Rice wrote.
The Montgomery County Office of Broadband Programs estimates 362 properties within the Agricultural Reserve lack broadband access. A 2018 study conducted by Microsoft concluded that 19 million rural Americans do not use broadband, largely due to a lack of access.
Broadband often is needed to connect students to their virtual school and online degrees, employees to their jobs, ill patients with their doctors and families and friends to stay in touch during social distancing.
"High-speed internet is also consistently identified as a top challenge facing small businesses in rural America and stifles entrepreneurship by limiting the ability of individuals to take on independent work. In this economy, broadband is critical to building resilient and future ready communities," it stated in the news release.
Local governments often face state-imposed limitations to expanding access to broadband connectivity. In 22 states, local governments are restricted from making investments in broadband infrastructure networks. NACo is working to pass federal legislation that would remove those barriers and expand broadband access, according to the news release.
.@RicePolitics Broadband Task Force to Draw 'blueprint for closing digital divide – Councilmember Craig Rice Co-Chairs National Broadband Task Force to Bridge the Digital Divide – @State_Scoop #Nacoleg #craigrice @mococouncilmd @washingtonpost https://t.co/QETOzgIygv https://t.co/b7WID3UlT1

— Craig Rice (@RicePolitics) October 23, 2020