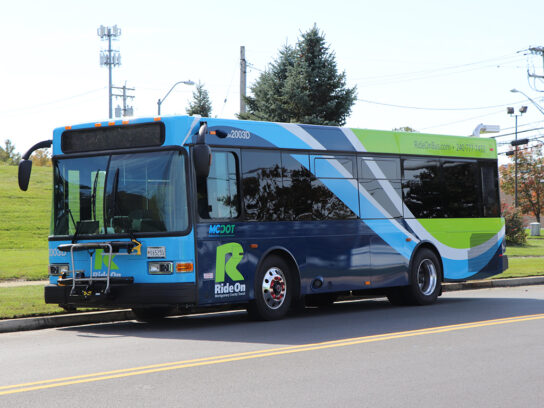 Montgomery County has entered into an agreement to construct an integrated microgrid and electric bus charging project at the Brookville Bus Depot in Silver Spring. The project is designed to enable at least 44 Ride On buses to move from diesel to electric power.
Executive Marc Elrich announced Wednesday that the county set up a Private-Public Partnership, known as P3, with AlphaStruxure of Boston. AlphaStruxure is a joint venture of Schneider Electric and the Carlyle Global Infrastructure Opportunity Fund, will design, build, finance, own and operate the project.
"Rather than buying the microgrid and charging infrastructure outright, the County partnered with AlphaStruxure, who builds, owns, operates and maintains the system. The County then purchases the electricity and resilience supplied by the microgrid and charging infrastructure on an ongoing basis. This model delivers the supporting infrastructure required to electrify our bus fleet, customized to our specific needs, at no upfront cost while also enhancing resilience and environmental sustainability," County Department of General Services Director David Dise explained.
"This advanced infrastructure project drives forward several of our priorities—converting our fleets to electric, reducing harmful emissions, and ensuring safety and security—in alignment with our ambitious climate goals," Elrich said in a news release. "I'm pleased that this project will also improve the County's resilience, so we can continue providing transportation services even in the event of prolonged power outages."
Scheduled for completion in about a year, the project is expected to enable the county to transition from fossil fuel buses to electric ones; reduce carbon emissions; ensure buses will operate during power outages and not leave the county subject to utility demand charges; and create more than 50 construction jobs.
"Electrifying our bus fleets is a necessary step in reducing carbon emissions, which is why the microgrid and electrification project brings us one step closer to meeting our ambitious climate goals," County Council President Tom Hucker said.
Today I announced an agreement with @alphastruxure, a leader in Energy as a Service solutions, to deploy an integrated microgrid and electric bus charging infrastructure project at the Brookville Bus Depot.
Details: https://t.co/7xc2i7j5oK. @MCDOTNow

— County Exec Marc Elrich (@MontCoExec) May 12, 2021