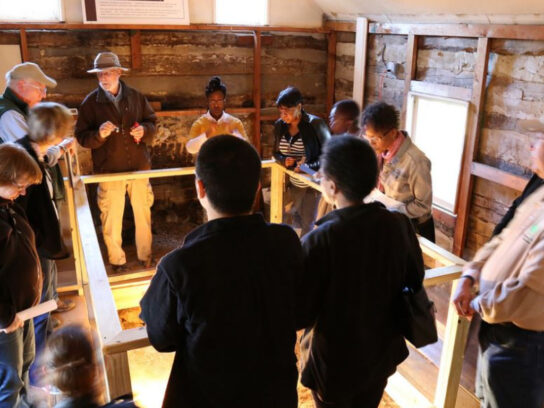 Maryland will celebrate Emancipation Day on Tuesday, Nov. 1, marking 158 years since the state's enslaved people were freed in 1864. Montgomery County officials have planned dozens of events to commemorate the occasion and bring awareness to the county's history.
All events are open to the public and take place at historic sites or community gathering places. Events listed below are hosted by either Montgomery Parks or the county's Commission on Remembrance and Reconciliation.
Oct. 28-30
Freedom's Footsteps – 10 a.m. to 4 p.m. in North Bethesda
This weekend, county residents can celebrate the emancipation of Josiah Henson, a man born into slavery in Maryland who escaped to Canada and found his freedom on Oct. 28, 1830. Activities will take place from Friday to Sunday from 10 a.m. to 4 p.m. for all ages to "reflect on the past and consider ways to build a better future," according to Montgomery Parks' website. The event will take place at Josiah Henson Museum and Park.
Oct. 29
Coming to the Table: Emancipation Day Celebration – 12 to 3 p.m. in Germantown
This annual event will take place at Button Farm, Maryland's only living history center celebrating 19th-century plantation life. Saturday's program will include exhibits and a self-guided tour of the farm's living history center and slave cemetery. The event will take place from 12 p.m. to 3 p.m.
Nov. 4
Adam Francis Plummer Artist Talk and Portrait Unveiling – 6:30 to 8 p.m. in Riverdale Park
The Riversdale House Museum will unveil a new portrait of Adam Francis Plummer, a man who was enslaved in Riversdale for more than 45 years. Artist Chanel Compton will unveil her portrait of Plummer and a talk and reception will follow to "celebrate the new permanent addition to the museum," according to Montgomery Parks. Registration is required.
Nov. 5
Emancipation Day Freedom Quilt Square Making – 12 to 4 p.m. in Olney
Quilting master Kyna Clemons will guide participants in creating a "freedom quilt" at the Oakley Cabin African American Museum and Park from 12 to 4 p.m. Guests will have the opportunity to create their own quilt squares, complete archeological hands-on activities, hearth cooking demonstrations and guided tours. Oakley Cabin's master storyteller, Gordon Parks, will also present traditional African folk tales from 2 p.m. to 3:30 p.m.
Underground Railroad Guided Hike – 10 to 11:30 a.m. in Sandy Spring
Participants who register for this event at the Woodlawn Manor Cultural Park will have the opportunity to complete a guided hike on the Underground Railroad Experience Trail. The hike will involve educational lessons on techniques escaping slaves used for navigation, avoiding capture and finding food and shelter. The roundtrip hike is 2 miles long and will occur from 10 a.m. to 11:30 a.m. Admission is $8 per person and advanced registration is required.
Nov. 6
Maryland Emancipation Day at Thomas Harper Cabin – 1 to 4 p.m. in Wheaton
Harper Cabin will provide living history presentations from the Female Reenactors of Distinction – a group established under the African American Civil War Memorial and Museum that depicts the role of African Americans during the U.S. Civil War. Attendees will also hear traditional African American folktales and musical performances.