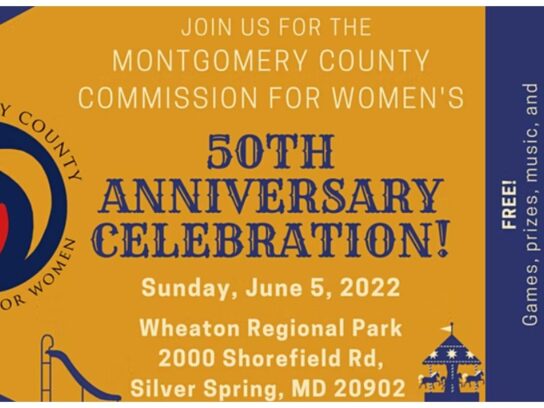 The Montgomery County Commission for Women holds its 50th anniversary celebration June 5 from 2 p.m. to 5 p.m. at Wheaton Regional Park.
The free event includes music, fun and games. Food will be available for purchase.
The commission was established in 1972 and is tasked with advising county and state officials, agencies and public on issues concerning women in Montgomery County. It strives to improve the lives of Montgomery County women by identifying inequities in legislation and taking proactive measures to create remedies and solutions.
🥳This year will mark the 50th anniversary of the founding of the Montgomery County Commission for Women (CFW). We invite you to celebrate with us on Sunday, June 5, 2022 from 2pm-5pm at the Wheaton Regional Park! RSVP is appreciated at https://t.co/78VFaIDtrm.

See you there! pic.twitter.com/LQP3NLjfwE

— Montgomery County Commission for Women (@MoCoWomen) May 23, 2022