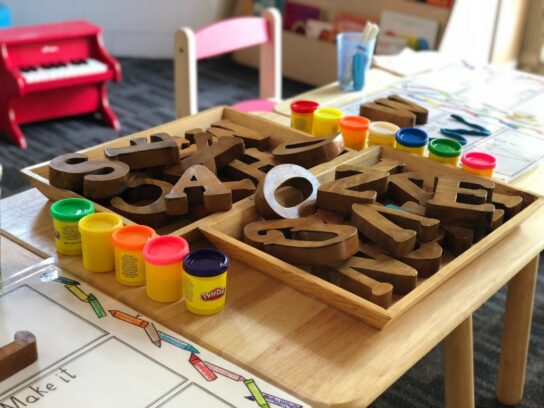 In the first year of a four-year Montgomery County Early Care and Education Initiative, an additional 500 family home care spaces were created, the Upcounty Early Childhood Center at Emory Grove in Gaithersburg opened and the number of Pre-K classes expanded.
Some of the initiative's goals in its second year include opening more childcare spots and ensuring that Montgomery County Public School students interested in a career in early childcare know they can begin their education before they even graduate public school.
During a news conference Wednesday, County Executive Marc Elrich, County Councilmember Nancy Navarro, Montgomery College President DeRionne Pollard and MCPS Superintendent Dr. Jack Smith discussed this countywide effort to close the achievement and racial disparity gap by educating children at an early age.
The initiative "affirms my belief that high quality, accessible, and affordable early care and education opportunities can be available to all parents in our county, especially underserved populations whose children are not being adequately prepared for kindergarten and who are economically impacted by a lack of access to opportunities. This is both an Economic Imperative and a Racial Equity and Social Justice issue," Navarro said in a press release.
Pumping money into early learning "is where you are going to get the best return on your investment," Navarro said.
According to the report, childcare costs in Montgomery County for a family of four with one infant and one preschooler eats up 24.3% of a family's income. The county allocated $7 million for the first year of the action plan, Elrich said, calling it "absolutely essential for the well-being of our students."
The county also allocated $10 million from the federal CARES Act to assist the reopening of childcare places that temporarily closed due to state-mandated COVID-19 restrictions, he said.
During the plan's first year, it strove to increase the number of seats in a variety of settings, including family homes, center-based and schools.
Now, those involved hope to continue to increase the number of affordable childcare seats, which Superintendent Smith called even more crucial now due to the pandemic. "We must focus on children who may not have resources to access early learning independently," he said.
Today the county released the highlights of the Early Care & Education Initiative which just wrapped up its first year. This charge was spearheaded by @nancy_navarro who says this is the most important and valuable investment we can make. @DrPollard_MC @MontCoExec @MCPS pic.twitter.com/O26cBVpqVG

— Montgomery Council (@MoCoCouncilMD) November 18, 2020
According to the initiative, the county has 62,732 children ranging from birth to five years old but only 43,206 spots for childcare.
About 40% of the young children are economically vulnerable. During the 2018-2019 school year, only 54% of kindergarteners in the county demonstrate the necessary readiness for school.
The pandemic has worsened the problem, Pollard said. Those who work on the front lines of fighting COVID-19 need affordable childcare. Even parents who work from home may need childcare as they struggle to do their own work while helping their children's education.
Early childhood education is important to economic recovery, and it enables children to be ready for success. Early education providers "are literally the connectors of our education pipeline," Pollard said.
Smith agreed, noting that early education "is critical to success" and helps children build relationships and "navigate the world around them."
During the pandemic, MCPS enrollment has declined, and Smith said is "extremely concerned" that too many students will be left behind. "We have to provide services regardless of the situation" with the goal of eliminating any possible long lasting effects, he said.
JoAnn Barnes, chief of Children, Youth and Family Services at the Department of Health and Human Services and a steering committee co-chair on the initiative, praised the numerous groups that are involved, including the public sector, county executive, MCPS, Montgomery College and The Universities at Shady Grove, county council, county libraries and the county department of recreation.
"I believe we did make things happen," she said. In the coming year, Barnes hopes to work on shared service hubs and assist with childcare centers to negotiate the licensing, permitting and funding sources.