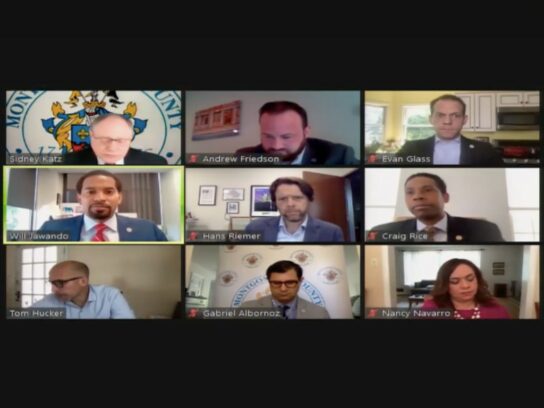 The Montgomery County Council is introducing a "Use of Force" bill that would require the use of force by police to meet certain minimum standards. This bill will be introduced, along with others, at a virtual meeting on Tuesday, June 16 at 9:30 a.m.
This bill would require the police chief to issue official instructions regarding police use of force that meets certain minimum standards outlined by the council. These standards include prohibiting police from using deadly force, neck restraints, or carotid restraints, except when necessary to protect from the imminent threat of death or serious injury. It would also prohibit police from striking a restrained person, and require that if a police officer sees another officer violating this policy, that they must intervene. The full outline of the standards and definitions can be found here.
The council defines "necessary" as, at the time of the use of force by the police officer, there was no other alternative for less-lethal force.
Councilmembers Will Jawando, Craig Rice, Nancy Navarro, and Gabe Albornoz are the lead sponsors for this bill, and all of the other councilmembers are cosponsors.
Proud to join my colleagues @willjawando, @nancy_navarro and @RicePolitics in introducing legislation in the near future to strengthen community trust with law enforcement. Full statement is below. ⬇️ pic.twitter.com/vJIMw4MDPS

— Councilmember Gabe Albornoz (@albornoz_gabe) June 8, 2020
Christine Wellons, a legislative attorney and a source of information for this bill, discusses in a memorandum success limiting the use of police force in other places. On a state level, in California, and at a local level in Seattle and San Francisco, police departments have had success in implementing reforms that limit the use of deadly force and banning or limiting restraints that purposely apply pressure to the neck which can result in a subject becoming unconscious.