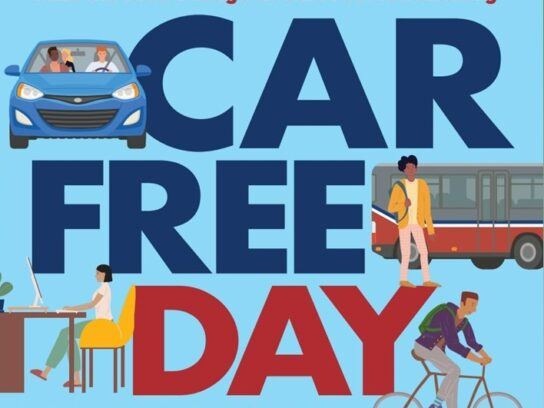 Montgomery County is encouraging its residents to ditch their cars and use "greener" modes of transportation in recognition of "Car-Free Day" on Thursday, Sept. 22.
The county is incentivizing residents to walk, bike, or use public transit instead of driving their cars through free giveaways and raffle drawings for gift cards. Prizes include an annual membership to Capital Bikeshare or a $200 SmarTrip Card.
👣Reduce your Carbon Footprint👣
Using more sustainable ways to get around helps reduce harmful greenhouse gas emissions. The more people who travel using bicycles, buses, trains, carpools & vanpools, the fewer pollutants are released into the atmosphere. https://t.co/VXZiIb5KCq pic.twitter.com/WcCBLdWKeQ

— MCDOT (@MCDOTNow) September 20, 2022
Montgomery County Department of Transportation's (MCDOT) Commuter Services team will have free giveaways and raffle ticket entries available at the following locations, according to a county press release:
From 6:30 a.m. to 9 a.m. at:

Friendship Heights at Wisconsin Place
Germantown Transit Center
North Bethesda Metro Station
Shady Grove Metro Station
Silver Spring Metro Station

From 7 a.m. to 9 a.m. at:

Bethesda at the Metro Bus Bays
White Oak — Lockwood Drive and New Hampshire Avenue Transit Center
To enter the raffle, residents can fill out a pledge card in-person at the listed locations or online, which offers additional perks.
#DidYouKnow as a 👏thank you👏 to everyone who takes the #CarFreeDay pledge, you'll receive a confirmation email with a 2️⃣4️⃣-hour pass for unlimited4️⃣5️⃣-minute rides on the @bikeshare system.

Pledge here👉https://t.co/4Gar9cpRQB@MontgomeryCoMD @mymcmedia @MyGreenMC #bikemoco pic.twitter.com/veRPhY4Wwx

— MCDOT (@MCDOTNow) September 19, 2022
Newly-appointed Washington Metropolitan Area Transit Authority (WMATA) General Manager and CEO Randy Clarke emphasized the benefits of using public transit at a Montgomery County Council meeting on Sept. 20.
"Transit is the ultimate opportunity connector," Clarke said. "It connects people to education, and to jobs, and to healthcare, and so many other facets of life."
The county is also encouraging residents who do not own a bicycle to utilize the Capitol Bikeshare system to get to their destinations.