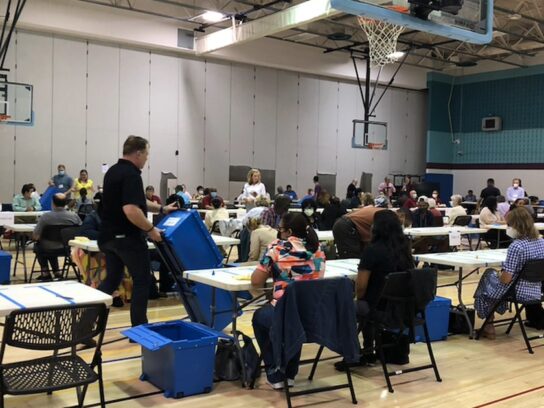 Tuesday is the fifth and final day of the recount for the Democratic nominee for County Executive. The last batch of Mail-In votes and Absentee ballots have been tabulated. Now they must be audited, according to Dr. Gilberto Zelaya, the Board of Elections [BOE]  Public Information Officer.
Tentative results on the BOE website Tuesday morning show David Blair gaining 10 votes, while incumbent Marc Elrich gained seven for a net gain of three votes for Blair. If those numbers hold, the tight race between incumbent Marc Elrich and challenger David Blair will come down to a 32-vote victory for Elrich. The original count had Elrich winning by 35 votes.
On earlier recount days, the Board of Elections reviewed all Early Votes, In Person Votes and Provisionary ballots. During those recounts, election officials found one new vote for Blair among the Early Votes. The Election Day votes yielded four more votes for Blair and four more votes for Elrich for a zero net vote difference. Neither candidate collected any votes after a review of Provisional ballots. The tentative Mail-In vote recount has Blair gaining five votes and Elrich gaining three so far.
Anyone can attend the recount in person at the Germantown  Community Recreation Center at 18905 Kingsbridge Road or watch the proceedings online. MyMCM will update with a link to the live event when it becomes available.
Certification of all ballots is scheduled for Wednesday, August 24.
***CORRECTION*** pic.twitter.com/maKt84TmGo

— MontgomeryMDVotes (@777Vote) August 23, 2022