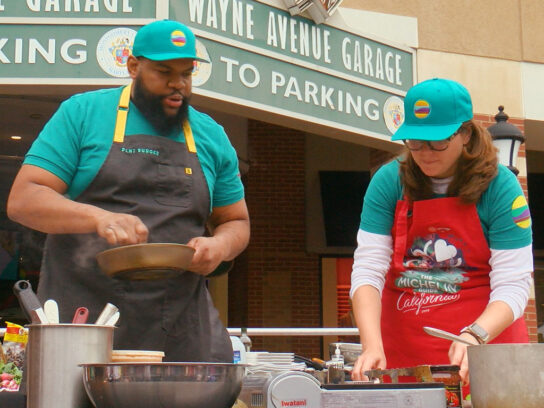 Montgomery County has awarded $1.2 million food access grants to 38 community organizations that provide vulnerable residents with access to food assistance during the COVID-19 crisis.
The organizations receiving grants include community, religious, and advocacy groups in the area, as well as ethnic grocery stores. The funding for ethnic grocery stores is intended to increase the availability of culturally appropriate food assistance, such as kosher or halal meals, according to a press release from the county.
"The need for food assistance has grown dramatically because of this pandemic, and I am appreciative of the work with many of our community partners to get food to our residents as best as possible," said County Executive Marc Elrich in the press release. "We will continue our work together to address the needs of our residents during this difficult time."
The grants range in size from $7,000 to $60,000.
The COVID-19 Emergency Food Access Grant is the result of a partnership between the Montgomery County Department of Health and Human Services (DHHS), the Montgomery County Food Council (MCFC) and the Healthcare Initiative Foundation (HIF).
DHHS, along with Montgomery County Public Schools, the MCFC and local organizations have been working to address the increased need for food assistance due to the COVID-19 crisis. These stakeholders are currently developing a strategic plan to address food insecurity, according to the press release.
"The economic hardships experienced by countless Montgomery County residents as a result of the COVID-19 pandemic have created ever-increasing and sustained demands on food banks, nonprofit providers and community service partners providing food assistance," said Council President Sidney Katz in the press release. "We are deeply grateful for our community partners and their ongoing efforts to combat food insecurity during this extremely challenging time."
The following organizations will receive grants: Adventist Community Services, AHC, Inc., American Diversity Group, American Muslim Senior Society, Bethel World, CASA, Catholic Charities, Chinese Cultural and Community Center, Direct Support for Immigrants, Gaithersburg HELP, Germantown Black Rock Hub, Goshen United Methodist Church, Help for Life Foundation, Hindu American Community Services, Hughes United Methodist Church, Humanity First USA, Indonesian American Association, International Cultural Athletic Association, Islamic Center of Maryland, Islamic Community Center of Potomac, Jewish Council for the Aging, Kingdom Fellowship AME Church, Kings and Priests Courts International Ministries, Korean, Community Service Center of Greater Washington, Latin American Youth Center, Manna Food Center, Nourish Now, Rainbow CDC, Salvation Army, Shepherd's Table, Silver Spring Christian Reformed Church, So What Else, The Living Legends Awards for Service to Humanity, Up2Us Foundation, Vietnamese Americans Services, Washington Youth Foundation, Women Who Care Ministries, and YMCA Youth & Family Services.