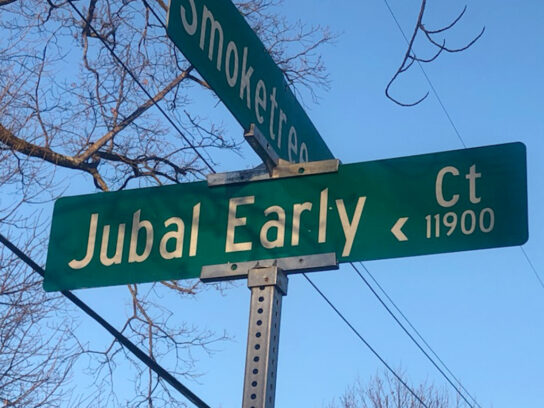 Montgomery County is moving to rename Jeb Stuart Court, Jeb Stuart Road and Jubal Early Court in Potomac and then continue to research and rename other streets and places with the goal of eliminating all street and place names connected to a Confederate or slaveowner
The Montgomery County Planning Commission has been researching these street names and so far has located 709 streets named after Confederates, 440 named after senior officers in the Confederate Army and 5,826 named for local slaveowners.
The planners briefed the county council on their findings during the Jan. 12 council meeting. On Jan. 14, the planning commission is expected to submit a resolution to rename those three Potomac Streets named after nationally-known Confederates.
"Symbols matter," said Councilmember Andrew Friedson, pointing to the events last week when the U.S. Capitol was breached by rioters. The image of a rioter carrying the Confederate flag inside the government building is a perfect example, he said.
Councilmember Will Jawando urged the council to "not just remove the harm of the name" but also to choose new names that would honor county residents who are not well known.
Councilmembers backed the planning commission's efforts to change the street and place names, saying the sooner the better.
https://www.instagram.com/p/CJ9emXAh9Gd/
However, planning commission staff stressed that some of those roads may bear the name of a local Confederate but actually be named for someone totally different. For instance, there is a Walter Johnson Road, which is the name of a Confederate, but it actually was named for the Hall of Fame baseball pitcher – with the same name – who played for the Washington Senators from 1907-1927. Therefore, the research will take time, they said.
"Some of that history shouldn't be a part of our current and making sure we are turning the page is incredibly appropriate," said Councilman Craig Rice.
"This is more than symbolic. It goes deeper than that," said Councilmember Gabe Albonoz.