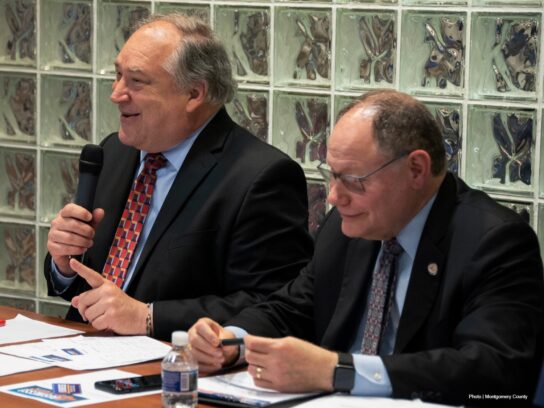 Montgomery County officials are encouraging business owners to take the 4Business Climate Survey before it closes on Sept. 30.
The survey is posted on the County's website and it is available in English and Spanish. The survey is part of the Benchmarking to Be the Best for Business initiative. Responses will help County officials determine what actions to take to spur businesses to open, expand and thrive here. Survey responses will also be utilized to strengthen relations between the business community and County government.
The survey takes about 20 minutes to complete and includes four sections: general background about businesses; feedback on the business environment in the County; experience with the County procurement requirements; and ease of access to government. It was developed with support and input from focus sessions with representatives from the business community.
The survey follows six 4Business listening sessions that were held around the County. Dozens of business owners participated in the listening sessions, and transcripts of those sessions are posted on the County's 4Business website.
County Council Vice President Sidney Katz is working alongside County Executive Elrich on the initiative.
The survey is posted in English here, and in Spanish here.
Later this fall, Elrich and Katz will hold two charrettes to discuss the results of the survey and input collected during the listening sessions, and how the County proposes to specifically respond to the issues that have been raised.  The charrettes are scheduled from 7 to 9 p.m. on Wednesday, Nov. 20 at the Upcounty Regional Services Center, and Thursday, Nov. 21 at the Wheaton Community Recreation Center.
The 4Business Climate Survey will be available on the County's 4Business website through Monday, Sept. 30