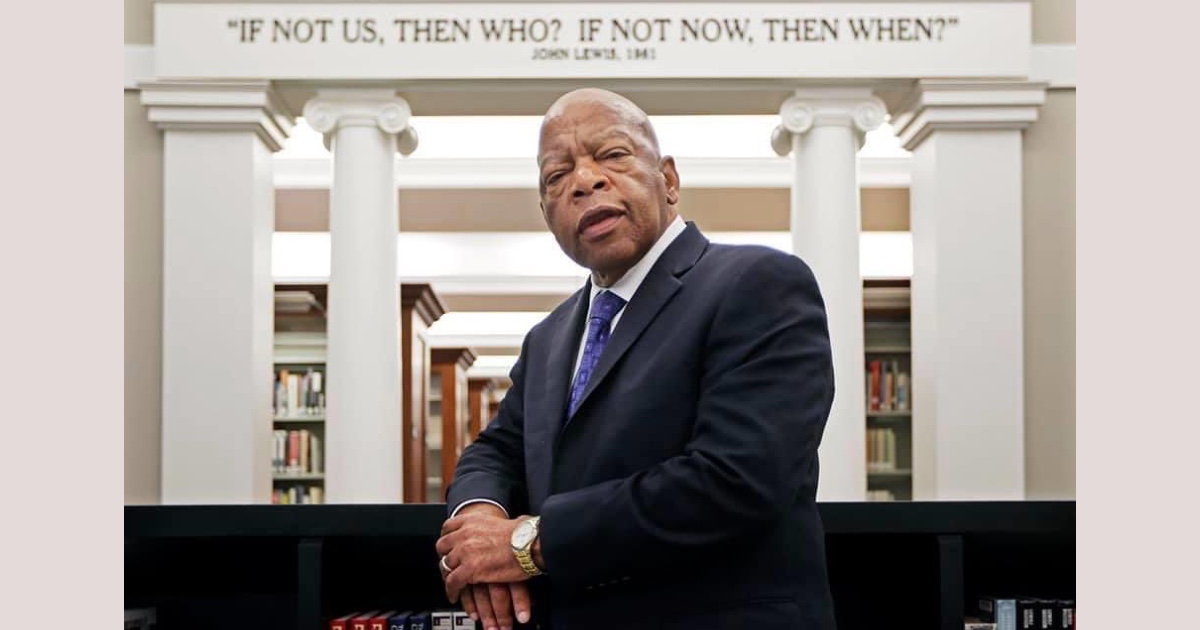 County, State Officials Mourn The Passing of Civil Rights Icon John Lewis
Many Montgomery County and Maryland officials tweeted their remorse over the July 17 death of Rep. John Lewis (D-GA), who was known for his decades of work in civil rights and voter registration. Gov. Larry Hogan said the U.S. and Maryland flags will be lowered to half staff in honor of Lewis' life and legacy.
Here are just some of the many tributes.
America has lost a true icon. John Lewis embodied what it meant to be a student activist. He took his passsion for justice from the streets of the south to Atlanta's City Council and then to the US Congress. He taught us to never give up the fight for civil and human rights.

— Marc Elrich (@Marc_Elrich) July 18, 2020
"When you see something that is not right, not fair, not just, you have to speak up. You have to say something; you have to do something."

Thank you John Lewis for always speaking up and teaching all of us the power of humanity.#RIPJohnLewis #goodtrouble #RestInPower pic.twitter.com/AyiJXyo6aL

— Evan Glass (@EvanMGlass) July 18, 2020
John Lewis represented the very best of our nation—a selfless public servant and moral leader who transcended the ideological divide. He spent the greater part of his life fighting for equality and justice, and he leaves an indelible mark on American history. It is a sad day.

— Governor Larry Hogan (@GovLarryHogan) July 18, 2020
"If not us, then who? If not now, then when?" ~John Lewis was as an amazing example of leadership and service. May he Rest In Peace. pic.twitter.com/YA6A19BJRH

— MCPS Student Leadership & ECAs (@mcpsslu) July 18, 2020
John Lewis, who went from being the youngest leader of the 1963 March on Washington to a long-serving congressman from Georgia and icon of the civil rights movement, died Friday. He was 80. pic.twitter.com/JB465HXi07

— MoCo Rec (@MoCoRec) July 18, 2020
Thank you, Rep. John Lewis, for all the good trouble, courage, love, and transformation you brought to this world.https://t.co/mrIrfDEAun

— Lorig Charkoudian (@LCharkoudian) July 18, 2020
America has lost a national treasure. It is hard to measure the depths of our loss. From an awesomely young age, @repjohnlewis placed his body in the pathway of injustice, violent white supremacy and apartheid. My full statement: https://t.co/okwgKxTxVT https://t.co/EXpImMoRuG

— Rep. Jamie Raskin (@RepRaskin) July 18, 2020
I do believe in making "good trouble" to bring about change. So inspired and proud of John Lewis and always will be. https://t.co/Xywhwl9wYP

— Jeanette Dixon (@dixon_jeanette) July 18, 2020
We have lost a giant, an icon, a true titan who fought for equal justice until his last breath. Thank you, Congressman Lewis for being our moral compass, our beacon of hope to achieve a more perfect union for all. Our nation will forever be indebted to you, we will never give up. pic.twitter.com/9d2WENQjwA

— Gabe Albornoz (@albornoz_gabe) July 18, 2020