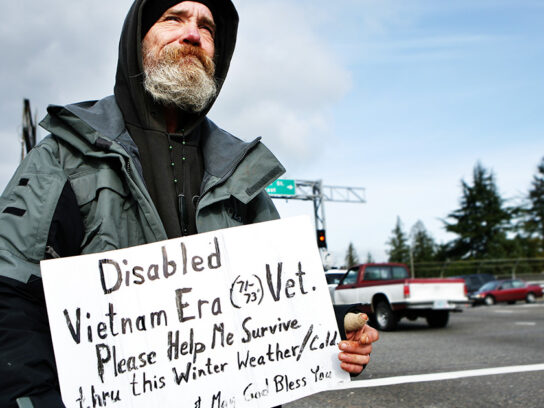 Bethesda Cares, a nonprofit working to prevent and end homelessness in Montgomery County, was named cochair of the Zero for All campaign.
Services to End and Prevent Homelessness, which is part of the county's Department of Health and Human Services, made the announcement, noting that Bethesda Cares "has stepped up to the challenge of ensuring our community reaches functional zero for all by the end of 2025."
The county participates in Built for Zero, the international movement working to end homelessness. According to that campaign's benchmarks, the county should have no more than 89 people experiencing homelessness at any one time.
John Mendez, executive director at Bethesda Cares, called the Built for Zero campaign "the most important endeavor our community has evern initiated on behalf of persons experiencing homelessness."
As cochair, Bethesda Cares will be the county's dedicated coordinator fighting homelessness.
The county has helped thousands of households exit homelessness during the past few years, according to Mary Anderson, public information officer for the DHHS.
Previously, the county aimed to end homelessness by the end of 2023. "Unfortunately, we are not on track to make that goal despite the tremendous stride we have made," Anderson wrote in an email to MCM.
Ending homelessness actually means that all efforts are made to prevent homelessness and that, when possible, people are rapidly placed in permanent housing.
According to a statement from the county, that goal, while "daunting," can be reached.
The county's Inside (not Outside) campaign, has helped 450 adults experiencing chronic homelessness enter housing. Between 2013 and 2022, the county has experienced a 41% decrease in people literally homeless, including a 50% reduction in households that included children.
As part of the campaign, the county aims by June to have a coordinated entry system for youth and an average length of 45 days from homelessness staff and volunteers noticing a family ishomeless to that family being housed.
Other goals include decreasing the number of seniors entering homelessness monthly from six to three and setting an average of 45 days for vulnerable adults to be housed. The county also aims to have no more than seven veterans experiencing homelessness at one time. That number currently is 10.