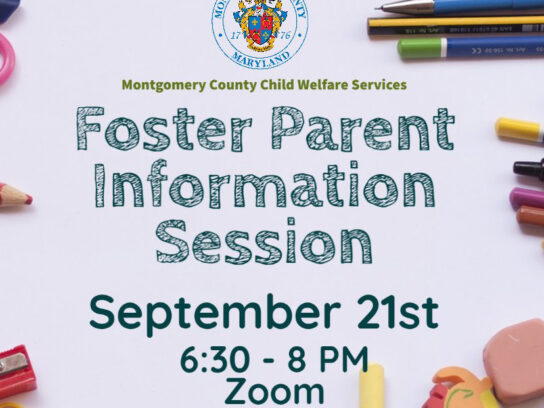 An upcoming information session will provide residents with details about how to become a foster parent. The meeting will take place on Zoom on Sept. 21. from 6:30 p.m. to 8 p.m., according to the Montgomery County Department of Health and Human Services (DHHS). 
"Choosing to become a foster parent is one of the biggest decisions you can make in life," the DHHS stated in a tweet Wednesday. "Let us help you learn more about the requirements and the process for becoming a licensed foster parent."
The meeting next Wednesday is part of the monthly, virtual sessions that are held in order to provide residents with important information pertaining to "what foster care is and what foster parenting involves, including the licensing requirements and processes to become a foster parent."
Residents can RSVP for the event by emailing FPRecruiter@montgomerycountymd.gov. Community members can also fill out a foster parent inquiry form, which is available on the county government website here, along with more general information.
Choosing to become a foster parent is one of the biggest decisions you can make in life. Let us help you learn more about the requirements and the process for becoming a licensed foster parent. See the flier for an upcoming information session. pic.twitter.com/GX7squrTBN

— Montgomery County DHHS (@MoCoDHHS) September 14, 2022