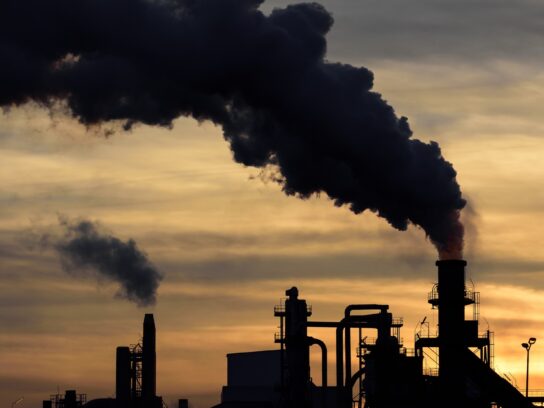 Declaring climate change "an issue of our time," Montgomery County Department of Environmental Protection Acting Director Adriana Hochberg said the county reduced greenhouse gas emissions by 19% as of 2018 as compared to what emissions were in 2005.
The goal is to reduce those emissions by 80% by 2027 and 100% by 2035 as compared to what they were in 2005, she said during Wednesday's Metropolitan Council of Governments meeting.
The county's Climate Action Plan covers many aspects, including car and building emissions and carbon sequestration, which is a natural or artificial process in which carbon dioxide is removed from the atmosphere and held in solid or liquid form.
Hochberg said the county is reducing emissions with an eye on racial equity and is including people of color in its work groups and the neighborhoods where they live into its plans. Adding diverse voices and concentrating on areas that had a low response rate to the 2020 U.S. census is a goal of the county, she said.
As the county cleans up its environment, it expects to add between 2,600 and 3,300 new jobs each year through 2050. Some of those jobs will be paid internships,with the goal of getting young people involved "so we can train the next generation of climate leaders," Hochberg said.
The daily high and daily low temperatures in the county have been increasing by two-tenths of a degree Fahrenheit per decade. The average temperature already has risen by 2.6 degrees Fahrenheit since 1901, according to the Climate Action Plan.
The increased number of hours where more than one inch of rain falls in an hour has increased since 2010 as has the number of significant floods reported.
"Significant shifts" are needed on how the county generates and uses energy, how residents heat and cool their homes and how businesses heat and cool their buildings, it states in the plan. The county intends to continue buying electric vehicles, retain and increase its forests and tree canopy and grow the carbons in the soils through improved agricultural practices.
The county also is updating its flood plain maps, working on on-site water re-use and updating green streetscapes with the goal of lowering its carbon footprint.
Great to be back at the first in-person @MWCOG board meeting since the beginning of the #COVID19 pandemic testifying about our emphasis on equity in @MontgomeryCoMD's Climate Action Plan, which aims to cut greenhouse gas emissions 80% by 2027 and 100% by 2035. @MyGreenMC pic.twitter.com/PMgZg2HGGy

— County Exec Marc Elrich (@MontCoExec) March 9, 2022
Go Electric March 19, 10am – 4pm in Rockville MD! Check out electric cars and buses, solar power, battery-operated mowers and blowers, a lightbulb exchange, small appliance recycling, and more. #GoElectric #MCEVPC #SolarPower https://t.co/pMbttOckcz pic.twitter.com/WQ86NZ9auu

— Montgomery County Dept of Environmental Protection (@MyGreenMC) March 2, 2022