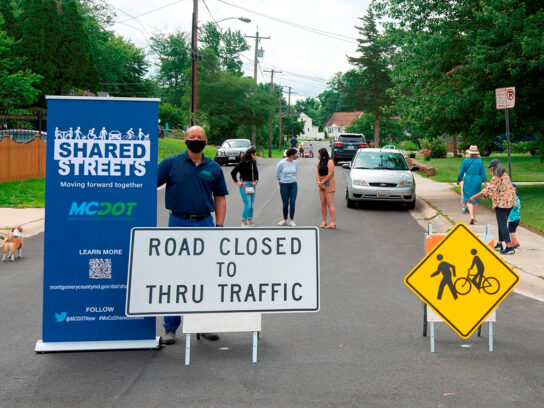 A Montgomery County program that prohibits vehicular traffic on designated streets so bikers, diners and pedestrians could find safe outdoor spaces during the pandemic will continue until at least Nov. 28.
The Shared Streets program, managed by the county's Department of Transportation, allows residents to have take out food delivered right to them. This originally was designed to help struggling restaurant owners. The county has three, including the Bethesda and Wheaton streeteries and the Silver Spring streetdine.
Restaurants within these three areas, can sell food and alcohol to customers. However, any alcoholic beverages must be served in glasses labelled with the business' logo or name as long as that businesses already was providing alcohol, according to a DOP spokesperson.
"The Shared Streets program has provided a safe gathering place for residents throughout a challenging time and has helped to support our economy," County Executive Marc Elrich said in a news release. "Shared Streets is good for our public health, our businesses, and is a popular option with many patrons who prefer to dine outside."
"We want to ensure we can maintain safe public spaces as we monitor COVID-19 variants," said  MCDOT Director Chris Conklin in the news release. "Throughout the pandemic, Shared Streets has been a creative solution that has greatly impacted the way we gather. It has helped maintain community connectedness and vibrancy."
A popular shared street in Silver Spring, Acorn Urban Park on Newell Street, will get some added attractions. Montgomery Parks will enhance that space by painting games like hopscotch on the street and adding picnic tables, benches, ping pong and game tables and planters tables. Those additions will be completed next month.
Yes I have! Can't wait to see it! Thanks to all the neighbors for making Acorn Park such a success! https://t.co/kETjDdvbEc

— Tom Hucker (he/him) (@tomhucker) August 25, 2021