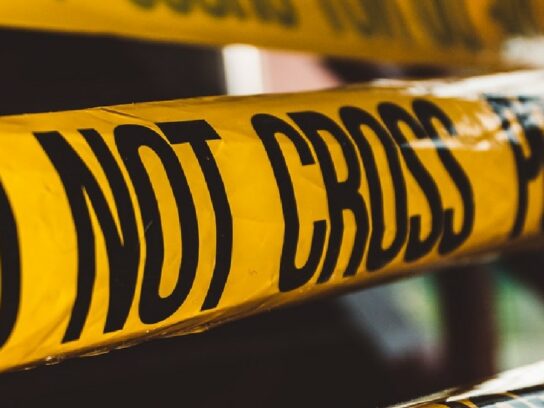 A Washington, D.C. teenager was arrested for carjacking and beating some of his victims while wearing an ankle bracelet monitor as ordered by Washington, D.C. Superior Court due to a previous arrest.
James Albert Borum, 19, is charged in connection with several carjackings committed in both Montgomery and Prince Georges counties.
Incidents of carjackings have doubled this year, from 30 to 60, throughout Montgomery County.
According to the U.S. Attorney's Office, District of Maryland, Borum is accused of participating in a series of carjackings in June of 2021.
On June 4, 2021, a victim was beaten and carjacked by two males, who stole his Apple iPhone 8 as well as items from his wallet, according to the affidavit.
On June 10, two individuals committed an armed carjacking in Silver Spring. The victim had parked his car and was walking to a nearby apartment courtyard. According to the affidavit, two people followed the victim and approached him in the courtyard. One suspect pointed a handgun at the victim's forehead and said, "I'll kill you. Give me the keys", while the other suspect stood behind the victim.
The victim handed over his keys, and both people drove away in the car, which contained $950, according to the affidavit.
In the third carjacking, two people attempted to carjack a person in the parking garage in the 8700 block of Cameron Street in Silver Spring. During the attempt, the victim saw her colleague pulling into the parking lot and told her assailants she would not call the police if they left her alone, at which point both suspects fled, according to the affidavit.
As they were fleeing, the third victim took their photo from behind them and described the two to law enforcement.
Officers obtained surveillance footage from the Metro stations at Rhode Island Avenue, Silver Spring, and Wheaton. According to the affidavit, Borum and a second person matching the third victim's description was observed.
Then, on June 23, 2021, a fourth victim was carjacked by two men as he was entering his car. The first man approached the driver from behind and held a black handgun to the left side of his face and said, 'Give me the keys!", according to the affidavit.
The victim handed over his keys and the two suspects drove away. That car was found five days later parked on the block where Borum lived, and his fingerprints were on it, according to the affidavit.
Information from his ankle bracelet and cell phone placed him in areas where the three carjackings and one attempted carjacking occurred. Borum was on pre-trial supervision with the condition he would be subject to location monitoring with an ankle bracelet in connection with an unrelated carjacking charge pending in D.C. Superior Court.
Law enforcement also obtained surveillance images from the area, statements from witnesses and victims, forensic evidence, and recovered items located at his home, according to an affidavit.
Borum faces a maximum of 15 years in federal prison for carjacking and a mandatory minimum sentence of seven years in federal prison to a maximum of life in prison for carrying and using a firearm during a crime of violence.
He is expected to be brought to Maryland from D.C. soon. He already has a March 1 court day for a previous carjacking, robbery, and assault.
The case was handled by the newly-formed Regional Carjacking Prosecution Task Force.